The defense had its day in the sun during the first team period, especially when the first-team units clashed. One play after cornerback Daryl Worley played centerfield for an interception of Cam Newton, safety Mike Adams picked Newton again but with a greater degree of difficulty, cutting off tight end Ed Dickson's route down the left sideline and one-handing the ball before bringing it in for the pick.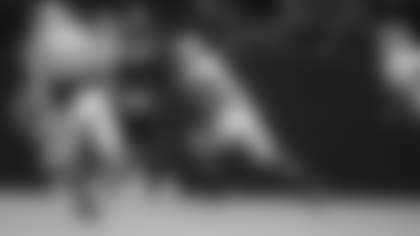 With Captain Munnerlyn and Corn Elder out with injuries, roster hopefuls Jeff Richards and Cole Luke have gotten more reps, and they've been taking advantage. Over the course of three plays in a 7-on-7 period against quarterback Derek Anderson, Richards and Luke each recorded an interception on a pass intended for Fred Ross. Luke later nearly intercepted Anderson in 11-on-11, and Richards probably would have had a sack on a blitz right after if contact with the quarterback were permitted.
"Some young guys are stepping up and making plays when they get opportunities," head coach Ron Rivera said. "That's one of the bigger things I'm looking for – seeing how our young guys assimilate to things."
Munnerlyn (hamstring), Elder (knee), wide receiver Curtis Samuel (hamstring) and defensive tackle Toby Johnson (leg) remained out, and they were joined by defensive linemen Charles Johnson and Kyle Love. Johnson got a vet day off, while the nature of Love's injury isn't known. Same goes for offensive tackle Dan France and guard David Yankey, who started practice but didn't end it.
Offensive tackle Matt Kalil enjoyed a productive day but sat out parts of practice.
"What we're really trying to do is be smart coming off what he is," Rivera said of Kalil, who played just two games for the Vikings last season before going on injured reserve with a hip injury. "We just want to be a little cautious."
Sitting out practice doesn't mean sitting. Out on the field before the opening horn blew, Munnerlyn was locked in with nickel backs coach Jeff Imamura, working in part on how to react to what an opposing back does after the snap.
Additional practice notes
On a day that featured lots of interceptions in various portions of practice, safety Dean Marlowe had one of the best. In one-on-one drills against wide receivers, Marlowe tracked Russell Shepard every step of the way on a deep route and fought through for the interception. "That's great, man," Imamura said.
Kelvin Benjamin made a couple of impressive grabs in 7-on-7 work, reminding of the value of a big catch radius. With linebacker Shaq Thompson seemingly in position to defend along the right sideline, Newton appeared to uncork a high ball but it actually ended up where only Benjamin (and few around the league) could make a play on it. He skied, snagged it and then managed to tap his feet inbounds.
On the other end of the field, linemen were going to work against each other. Defensive end Julius Peppers put quite a move on right tackle Daryl Williams to get to the imaginary quarterback, but on the left side, Kalil and Andrew Norwell worked in perfect concert to keep defensive end Mario Addison and defensive tackle Vernon Butler at bay.
Rookie Harrison Butker took all the field goal attempts for the second consecutive practice, punctuating an up-and-down day by drilling a 52-yard attempt dead down the middle.
"He's a work in progress," Rivera said while praising Butker's final boot. "I look forward to the opportunity he'll get when we get into the preseason.
"We're alternating," Rivera added. "Tomorrow it will be Graham (Gano)."
A long team period of 40-plus plays to wrap up practice featured an emphasis on quick tempo and underneath work for the offense, with the defense giving up very few passes of length but with the quarterbacks successfully connecting with their targets a large percentage of the time. One of the most notable plays produced good news for both sides of the ball. Rookie defensive end Daeshon Hall broke through for what likely would have been a sack, but the play continued, and Newton rifled one to Devin Funchess in the seam.
"Cam started a little slow, and I thought the defense made some really good plays," Rivera said. "Then as he starts to get rolling, he seems to finish strong. I was real pleased how we finished up practice today. I thought it was a really good practice."
Stay connected! Sign up for the free Panthers Pulse e-mail newsletter for daily updates and news about the team, sent straight to your inbox. Subscribe Here
View photos from the fourth practice of training camp at Wofford College.