Wide receiver Devin Funchess ran a crisp, precise slant route, and quarterback Derek Anderson's throw was right on the money for a touchdown in a red zone drill. Quarterback Cam Newton leapt into the air to celebrate as soon as the ball hit Funchess' hands.
"We've got to find ways to get the ball in his hands," head coach Ron Rivera said. "He's a good target for Cam, and he works hard at it. He's having a good start to camp."
Amini Silatolu, who has been lining up at left tackle behind Matt Kalil, has been a pleasant surprise through the first five practices of training camp. With Kalil getting the day off, Silatolu got some extended action with the first team, and he turned some heads during one-on-ones. If he can maintain this level, the Panthers will have an important depth option up front.
Honorable mention goes to tight end Chris Manhertz. After dropping a pass in the end zone on the final play of Saturday's practice, Manhertz came back with a number of tough catches in traffic Sunday.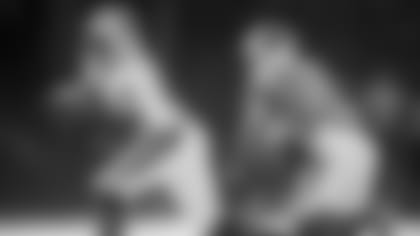 Defensive tackle Kawann Short was a disruptive force Sunday. He wrapped up rookie running back Christian McCaffrey in the backfield on multiple occasions. During one run play, he even lifted the first-round pick up as a show of strength.
Cornerback Captain Munnerlyn (hamstring) still hasn't practiced at training camp. Wide receiver Curtis Samuel (hamstring) sat out again Sunday, but Rivera is hopeful he'll have the second-round pick back in action when the players return for practice Tuesday.
Additional practice notes
There were numerous vet days handed out on Sunday, but tight end Greg Olsen didn't get one. In classic Olsen fashion, he had something to say about it: "My vet day email must have went to spam."
We had another entertaining "Oklahoma drill" moment. This time, Rivera called out guard Andrew Norwell and defensive end Charles Johnson. It led to some very entertaining build-up without any actual contact. And Greg Olsen got some revenge.
The Mayo family picked a good day to come down and watch David practice. With Thomas Davis getting the day off, Mayo stepped in as the first-team outside linebacker alongside Luke Kuechly and Shaq Thompson.
When the running backs and linebackers got together for one-on-one passing drills, all eyes were on McCaffrey, and he didn't disappoint. He won his first battle against Kuechly and left Thompson in his wake for a reception in his next rep. With that much space to work with, McCaffrey is simply a nightmare matchup for any linebacker.
In 7-on-7, Newton was intercepted early on by Thompson. Newton closed the period with a touchdown strike to wide receiver Brenton Bersin. After Anderson checked in, safety Colin Jones picked off his pass for tight end Scott Simonson.
Graham Gano was perfect during his kicking session. He went 8-for-8, including a 56-yarder on his last attempt. But his most impressive effort came during warmups, when he nailed a 65-yarder off the tee.
Keep an eye on reserve offensive tackle Blaine Clausell. The O-line coaches are liking what they're seeing so far.
In the first team session, Newton tried to connect with Russell Shepard on a quick tunnel screen, but cornerback Daryl Worley read it the whole way for the interception.
Here's the play that earned the loudest cheer of the day: Newton scrambling up the middle, sliding and doing his signature first-down point after getting to his feet.
Quarterback Joe Webb tossed a deep strike to wide receiver Keyarris Garrett, who tracked the ball well for a reception with safety L.J. McCray on his heels.
Veteran safety Mike Adams told the media he's still running like a 22-year-old and he showed it in the red zone drill, hustling across the field to cut off running back Cameron Artis-Payne against the sideline for a minimal gain at best.
Quarterback Garrett Gilbert and tight end Ed Dickson combined for one of the nicest plays through the air – an accurate pass over the defense and into a perfect spot for Dickson to reel it in.
McCaffrey had a rare drop in the flat during a late team period, and he was none too pleased with himself. He came right back with a nice catch on an out-breaking pattern. But after practice, McCaffrey spent some time with the JUGS machine.
View photos from Carolina's fifth day of practice at training camp.