During a late red zone period, tight end Greg Olsen reminded everyone how good he is. Quarterback Derek Anderson fired a strike toward the back of the end zone, and Olsen reached out and plucked the ball with one hand for the touchdown. Voices on the defensive sideline were heard saying: "Pay the man!" Olsen simply jogged back to the huddle like it was no big deal.
And, as you can see in the video above, Christian McCaffrey showed off his arsenal of moves against Luke Kuechly.
Quarterback Cam Newton (shoulder) was once again held out of passing drills. Head coach Ron Rivera reiterated that he's not concerned; just carefully managing the soreness.
Left tackle Matt Kalil (groin) missed another practice. So too did defensive tackle Kawann Short (hamstring and lower back).
"Just a little tight," Short said. "I'm good, though."
Safety Travell Dixon was sporting a boot on his right foot. Tight end Scott Simonson did not practice.
Additional practice notes
Wednesday's practice was the fifth consecutive in pads for the Panthers, and at times, head coach Ron Rivera thought the physicality went a little too far. On one play, McCaffrey bounced a run outside and encountered a big-time collision with three defenders, who perhaps are growing tired of McCaffrey getting loose for big plays.
"I thought they got carried away a little bit today," Rivera said. "It was something I mentioned (after practice). We have to be smart about that type of contact."
With safety Mike Adams getting a vet day off, safety Dean Marlowe got an opportunity to play alongside Kurt Coleman on the first team.
"He has to ascend. He has to continue to show that he can grow and better, which I think he has," Rivera said. "He's a very physical guy – he's one of the guys that has to learn to tempo his practice a little bit better. But I like the energy and the physicality he brings. He's got the tools and he's got the look of an NFL safety.
Officials made their debut at Panthers camp, and they tossed a few flags for pre-snap infractions. An official wearing No. 15 threw a flag after cornerback James Bradberry broke up a pass intended for wide receiver Kelvin Benjamin and signaled offensive pass interference. "Great call 15!" safety Kurt Coleman said. "It feels good to be right," the official replied.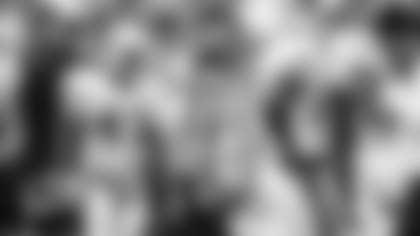 The new guy, cornerback Devonte Johnson, made a nice play in his debut practice, recovering well to knock down a deep pass intended for wide receiver Fred Ross.
Fatigue (mental and physical) is always a challenge at training camp, and McCaffrey has been frustrated by a couple drops over the last couple days. He dropped one in the red zone period, and Jonathan Stewart (who had a vet day) got in his ear to settle him down. McCaffrey quickly came back with a touchdown catch moments later.
Speaking of McCaffrey, he spent some time fielding punts.
Nearly had our first training camp fight when offensive tackle Tyrus Thompson and linebacker Ben Jacobs exchanged some pleasantries.
Kicker Graham Gano missed two of his final three field goal attempts – all of which were 50-plus.
Cornerback Jeff Richards picked off a pass intended for wide receiver Keyarris Garrett in the corner of the end zone.
The final play of practice was linebacker Zeek Bigger intercepting quarterback Garrett Gilbert.
View photos of Carolina's seventh practice at training camp.