Wide receiver Kaelin Clay was one of the top performers at Fan Fest and he made the top play during a 7-on-7 period, getting behind cornerback Jeff Richards down the sideline and hauling in a 44-yard touchdown from quarterback Joe Webb.
Quarterback Cam Newton (shoulder) did not throw for the fourth consecutive practice.
"He's had a good week, he really has believe it or not," head coach Ron Rivera said. "There are some things that we do that you guys don't get to see. He's really on top of it, and I can't wait for them to clear him to start throwing again."
Left tackle Matt Kalil (groin) was in pads and appeared ready to practice, but he took off his shoulder pads after positon drills and sat out the rest of the session. Defensive tackle Kawann Short (hamstring and back) also did not practice.
"Just being smart," Kalil said. "I'm good to go now, so everything has worked out. I'll be ready to go."
Wide receiver Kelvin Benjamin practiced but was held out of team drills.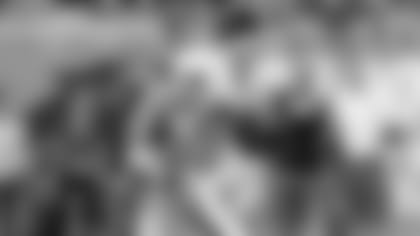 Additional practice notes
The fans in attendance certainly enjoyed getting their first glimpse of rookie running back Christian McCaffrey. There were loud "ooohs" and "aaaahs" seemingly with every cut by the first-round pick.
McCaffrey took some time to soak in his first experience at Bank of America Stadium. "It gets the heart going a little bit walking through the tunnel," he said afterward.
Defensive end Julius Peppers received a very nice ovation from the crowd when he took the field. Peppers did not practice however, as he was given the night off.
As has become tradition, Newton orchestrated "The Wave" with the crowd. He also took every opportunity to greet young fans in the first few rows between drills.
It was a tough night for left tackle Amini Silatolu. He got an earful from offensive line coach John Matsko and was later substituted for after getting flagged for a false start on the first play of a team period.
Cornerback Teddy Williams nearly came down with a highlight-reel interception on a deep ball to wide receiver Keyarris Garrett, but the ball bounced off his hands and Garrett nearly made a juggling touchdown catch. Alas, the ball hit the turf.
Quarterback Derek Anderson led a nice two-minute drill that ended with a 2-yard touchdown run by McCaffrey. Tight end Greg Olsen and wide receiver Devin Funchess were on the receiving end of pinpoint passes to set up the score.
After taking some time away following a death in the family, safety Dezmen Southward was back at practice.
The final play of practice was a 2-yard touchdown pass from quarterback Garrett Gilbert to Garrett on a quick slant.
View photos from Carolina's practice at Bank of America Stadium for Fan Fest.