CHARLOTTE ­– It's no secret the Panthers have their eyes on a number of running backs in next week's draft. But recently, most of the outside attention has centered on two backs: LSU's big bruiser Leonard Fournette or Stanford's multi-dimensional Christian McCaffrey. About the only thing the two have in common is they're uber-talented. So which would be the better fit if both were on the board when the Panthers pick at No. 8?
"They both fit," assistant general manager Brandon Beane said Friday at the Panthers' annual pre-draft press conference. 
"McCaffrey, you're going to throw the ball to him a little bit more. He has punt return skills as well."
McCaffrey, who in 2015 broke Barry Sanders' record for most all-purpose yards in a season, weighed in at 202 pounds at February's combine. Fournette tipped the scales at 240.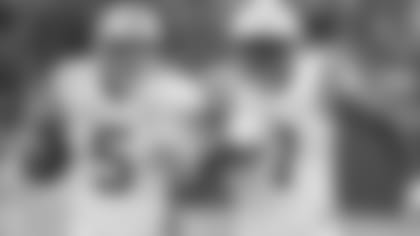 "As Brandon said, Christian is a different style from Leonard," general manager Dave Gettleman said. "A completely different style. Oh, by the way, Leonard has really good hands. He catches the rock now."
That's something LSU didn't ask Fournette to do often. 
In three seasons, he had just 40 receptions. The bulk of his work was on the ground, where he totaled 616 rushes. Nearly half of those came during Fournette's school-record breaking season in 2015 when he piled up 1,953 yards. But last year, an ankle injury limited him to 843 yards in seven games, which makes his evaluation somewhat trickier. 
"You go back to '15, and when a guy has been injured like him, that's what we do," Beane said. "We go back and see when he's healthy, and he put up some crazy numbers. He's a heck of a talent."
What the Panthers think of Fournette's hands matters because of something Gettleman said back in 2015: 
"(If) you take a running back in the first round, he better be a three-down guy right now."
When asked how many such backs are in this year's draft, Gettleman estimated "about a half-a-dozen." Of course ... 
"There's three-down running backs, and there's three-down running backs," he clarified. "Not everybody's equal."
And everyone comes with different question marks. 
For McCaffrey, many wonder if his slighter frame can allow him to be a three-down back in the NFL. That's where Gettleman points out McCaffrey carried the ball 590 times the past two years while adding 82 receptions. 
"He can run it, he can catch it - I guess that's three downs," Gettleman said with a smile. "He has certainly shown that he can carry the load at Stanford."
There is a chance, of course, the Panthers could go in a direction other than running back at No. 8 and pick one – or two – up later. But stars like Todd Gurley of the Rams and Ezekiel Elliott of the Cowboys have helped put the position back in vogue after no backs went in the first round of the 2013 and 2014 drafts. 
"I just think there was a period of time where there weren't any great running backs coming out," Gettleman said. 
"You have to run the ball to win in this league. You're not going to win if you can't run the rock. Plain and simple."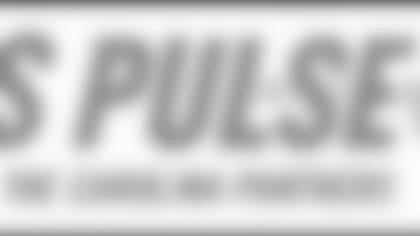 ](https://nfl.csharmony.epsilon.com/pc/clubs/Panthers/Account/register)