CHARLOTTE – In the closing minutes of Carolina's 33-14 triumph on Thanksgiving Day, the home of the Dallas Cowboys transformed into the home of the Panthers.
"There was a loud cheer, and I looked up and saw a bunch of Panthers fans," left tackle Michael Oher said. "I was happy to see that. Great support, and it definitely helps on the field."
The cheers continued when the Panthers returned home around 1 a.m., with more than 100 fans awaiting the team's arrival at Bank of America Stadium.
As players exited the buses, fans chanted "11-0! 11-0!"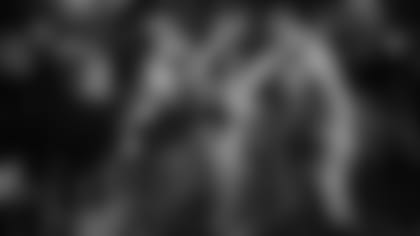 "It's a great feeling. It's a great feat," Oher said. "We're going to enjoy it for a couple of days, but then we'll get right back to work."
With each number added to the win column, more and more fans whisper about the possibility of 16-0. That, however, is not a number the Panthers have any interest in discussing.
"There's going to be a lot of talk, a lot of speculation, but the truth of the matter is it should only be geared to the next game," head coach Ron Rivera said. "I know this much: The next possibility is 12. We'll continue to take that one-game-at-a-time mentality. We can't get ahead of ourselves. We can't look at what the possibilities are other than what's in front of us.
"That's what the mantra is going to continue to be, and I'll continue to hammer that home."
The message was delivered Friday morning, when players and coaches arrived at the stadium hours after they returned from Texas.
"Today was a good day," Rivera said. "I sat in with special teams and listened to Coach (Bruce) DeHaven and Coach (Russ) Purnell and what they had to say, and outside the defensive room I listened to what Sean (McDermott) had to say. I didn't have a chance to hear what Mike (Shula) said to his guys on offense, but I talked to Mike about what he was going to say.
"Our message was very clear: We've got a ways to go, a lot of things to improve on."
The work will take a back seat for the next couple of days with the Panthers now in position to enjoy a mini-bye of sorts after an impressive seven-game stretch since the team's official bye that started with a victory at Seattle and ended in Dallas.
"I'm doing nothing and I'm super-psyched. Just going to relax," said tight end Greg Olsen, adding that his only definitive plan for the weekend was seeing the movie "The Good Dinosaur" with his family. "Then I'll wake up on Sunday morning and just be a football fan. Looking forward to that. Just sit around, watch games and know that our work for the week is done."
Other teams in the NFC South have plenty of work to do this weekend thanks to the Panthers' run. Carolina could clinch a playoff spot while watching this weekend, the simplest scenario calling for a loss by Seattle and a loss by either Atlanta or Tampa Bay. If the Seahawks win, Carolina could wrap up a spot with losses by Tampa Bay, Minnesota and Arizona.
Clinching a third consecutive NFC South title is possible next weekend, when the Panthers visit New Orleans to start a stretch run that features four of five games against division foes. Clinching a home playoff game could be possible the weekend after that depending on what happens next weekend.
Such scenarios, however, aren't really on the Panthers' radar.
"Teams that worry too much about the future or dwell too much on the past, you are not putting all your energy into winning one game that week," Olsen said. "It's hard to win in this league. The margin for error is very small.
"It takes all of your focus each week to win a game at this level. I don't think you get yourself too wrapped in what's ahead."
But as for the here and now?
"We're a hot team and a very confident team," said safety Roman Harper, who played for the Saints team in 2009 that started 13-0 and won the Super Bowl. "I like where we're at mentally and emotionally. We've just got to keep it going. We'll just try to keep stacking them as we go. It's still just 11."
View the top photos by team photographer Melissa Melvin-Rodriguez from Carolina's game against Dallas.