CHARLOTTE – The state-of-the-art luxury suites that opened along with Bank of America Stadium two decades ago stood the test of time, but now the time has come for a rebirth of sorts.
Leaning on the input of fans who use the suites as their football headquarters, the Panthers spent the entire offseason refreshing the stadium's 153 suites, getting them ready just in time for a pair of soccer events this month and Carolina's season to come.
"This is our first renovation of the suites in 20 years, and it's our goal that it's our last renovation for the next 20 years," director of stadium operations Scott Paul said. "What you're looking at today is the result of 20 years of conversations with our customers, asking them what they wanted to improve their suite experience."
The suite upgrades, in a word, are sweet, starting with fully retractable windows that allow fans to feel like they're sitting in the stands.
"They wanted to be able to feel the action a little bit more," Paul said. "In the past, they were only able to open those windows about 50 percent, but now they can open all the windows 100 percent."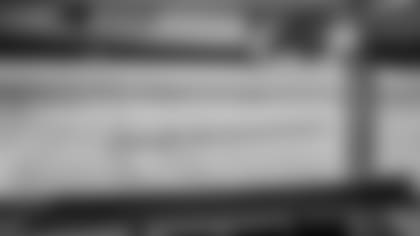 When those windows are opened late in the season, a radiant heating system will take off the chill in the first two rows. A third row also has been added, one featuring barstools and a countertop that face the field, and a center aisle allows fans to move freely from their seats without obstructing the view of their suitemates. They'll want to get up during timeouts to take advantage of an upgraded kitchen area that features twice the refrigeration.
As with last year's stadium-wide improvements that began a five-year renovation partnership between the Panthers and the city of Charlotte, technology is a big part of this year's changes. Each suite has at least five televisions (most had two before) as well as USB outlets and more electrical outlets. And those inside and outside the suites should benefit from a new distributed antenna system added to improve cellular coverage.
Team president Danny Morrison said improving Wi-Fi coverage throughout the stadium will be a priority next offseason, another enhancement that will benefit most fans much like the video boards, ribbon boards, distributed sound system and escalators added in 2014.
"This is a continuation of what we started last year. We're trying to take this classic American stadium, this stadium in the park, and keep it as one of the very best venues in all of the NFL," Morrison said. "Certainly, we made a lot of progress with that last year, and this year we've tried to continue to improve the fan experience. We've listened to the fans."
Two years ago, the City of Charlotte committed $75 million for improvements through the 2014-2018 offseasons while the Panthers pledged $37.5 million. Morrison said the Panthers spent $37 million on last year's projects and about $34 million on this year's, bringing the team's contribution so far to about $71 million.
"The bottom line is that we're committed to having one of the best facilities in the NFL," Morrison said. "This is a classic American stadium. I say it over and over again because we love this bowl and we love the great bones that enabled us to keep improving through renovations."
In addition to improving Wi-Fi, plans for next offseason call for improvements to the concourses on the 100 and 500 levels.
"The goal is to improve the experience for the fans on those levels," Paul said. "They don't want to wait in line when they come to a football game – they want to see the game – so the primary goal will be to improve the experience at the food and beverage levels."
A reassessment of the stadium will dictate changes in 2017, while 2018 will focus on what Morrison termed "back of the house" systems like air conditioning.
Morrison said so many people need to be thanked for this year's renovations, among them Paul; executive director for ticketing and sponsorship Phil Youtsey; director of ticketing Chrystal Rowe; director of information technology James Hammond; and Rodgers Builders.
"The time period to do all this work is so compressed – you've got about six months to do the work," Morrison said. "I can't begin to tell the fabulous job people did planning this."