CHARLOTTE – In the midst of Sunday's jubilant locker room scene, Panthers wide receiver Steve Smith was asked to describe how it felt to dismantle the visiting New York Giants.
"It was real special," Smith said. "So good that we're going to take the week off."
The Panthers will literally take part of the week off thanks to the schedule makers, resting rather than playing on Sunday to wrap up four consecutive days off as mandated by the NFL's Collective Bargaining Agreement.
But going forward, even after a 38-0 victory that ranked as the most lopsided in franchise history, the Panthers know they can't afford to take days or even plays off.
"This could be a catalyst, something we can build on," head coach Ron Rivera said Monday. "But we also have to be realistic. We have not arrived where we need to be by any stretch of the imagination.
"We have to approach each week as a developing, learning, growing situation and keep shooting for the top of the mountain."
The Panthers' 1-2 record actually puts them in a tie for the sixth-best record in the NFC, and six teams will eventually qualify for the playoffs. But it's a seven-team tie with lots of good company (i.e. 49ers, Packers and Falcons) and with lots of football left to be played to say the least.
"That's just one step. This is just our third game," quarterback Cam Newton said following the victory. "I think the bar has been set as far as our capability and what we can do. It's up to us to live up to those expectations each and every week."
Sunday's dominant victory showed that the sky is the limit but also showed that this team is equipped to avoid a sky-is-falling mentality.
Last season, Carolina followed a blowout loss to the Giants in Week 3 with a heartbreaking last-second loss at Atlanta, and by the time the Panthers righted the ship, they were 2-8.
This season, they dropped an equally demoralizing game at Buffalo in Week 2 but refused to let it linger.
"I know it was a tough week for the guys, but mentally and emotionally they got over it very quickly and started looking forward to what needed to happen," Rivera said. "I told the guys, 'There's nothing you can do about the past, but you can most certainly impact the future. So let's take care of business.' "
After the bye week, that has to again be the approach.
"Every coach I've ever been around has always said, 'This is a great time for a bye week,' " offensive coordinator Mike Shula said Monday. "I think the truth will probably lie in how we do when we come back, and not just the first week but from here on out."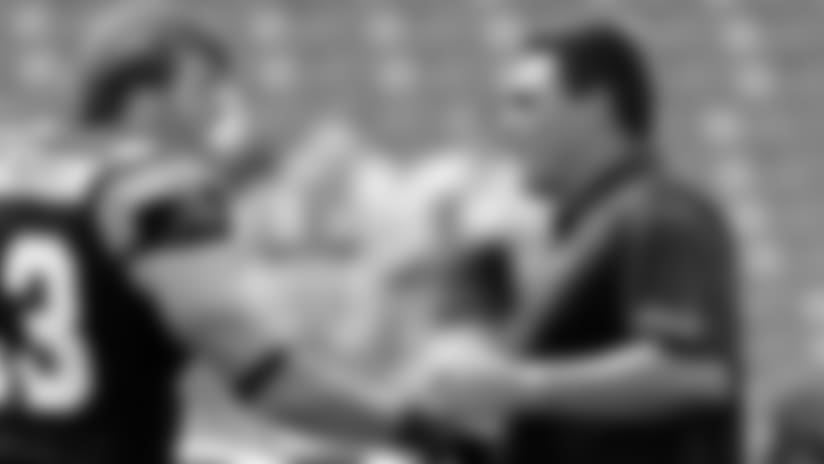 GIANT CONTRIBUTION: Longtime Giants linebacker Chase Blackburn started on the weak side against his former team, but he did some of his best work before even taking the field.
"You sit there and you listen to him when he is watching tape, and before the play even happens he calls the play out," Rivera said. "Chase was real comfortable in that role, and we felt real good about that."
Blackburn's role – as well as the lopsided nature of the game – limited Jon Beason to one snap. Beason had gotten all the reps on the weak side in the first two games but is still making his way back from offseason knee surgery.
"Jon is a competitor," Rivera said. "He's working hard to recapture the form of football that he's used to playing. We'll continue working with him, and we'll see.
"We've got two days of practice this week and a whole week to get ready for Arizona. As we go through this, we're going to try to put people on the field that give us the best opportunity to win football games."
QUICK KICKS: Rivera said wide receiver Steve Smith was sore one day after suffering a hip injury that temporarily sidelined him Sunday. "It's a type of hip pointer," Rivera said. "How severe, I'm not sure." … The Panthers got their first look at undrafted rookie defensive end Wes Horton, who was active at the expense of second-year end Frank Alexander. "I wanted to give Wes Horton a chance," Rivera said. "He's a solid, young football player that's explosive in the same mold as Frank." … Punter Brad Nortman ranks second in the NFL with a 49.4-yard gross average. He had a 66-yarder wiped out Sunday by a penalty that gave the Panthers the ball back, a boomer that would have increased his average to an NFL-best 50.7 yards. … Graham Gano is one of 12 kickers yet to miss a field goal this season after nailing a 53-yarder Sunday and is one of just five with a 50-plus-yarder that's still perfect. He had recorded touchbacks on 14 consecutive kickoffs – including his first six of 2013 – before the Giants brought one out of the end zone in the fourth quarter.