CHARLOTTE – Thousands of students stood on sidewalks Monday morning waiting for the bus to pick them up for the first day of school.
Travelle Wharton may have had a few pounds on them, but the 312-pounder also felt like a nervous newbie as he waited on the sidewalk for his ride to pick him up for his first day.
But when Panthers offensive lineman Jordan Gross pulled up, it started to feel like old times.
"I had butterflies. I was waking up every hour on the hour, just looking at the clock," said Wharton, who practiced for the first time Monday after re-signing with the Panthers the day before. "It felt good to get back out here with the guys mixing it up a little bit."
Wharton hadn't competed in pads for more than a year, but they had a familiar fit once he arrived at Bank of America and found his old No. 70 jersey hanging in a locker room that had been renovated since his last visit. The Panthers released Wharton, their 2004 third-round draft pick from the University of South Carolina, following the 2011 season in a salary cap move.
Sunday, they welcomed him back to provide much-needed depth along the offensive line. Wharton, who started 57 games at left guard and 42 at left tackle in his first stint in Carolina, got some snaps at right guard Monday in addition to left guard.
Wharton could be in line to start the season opener at left guard if Amini Silatolu isn't back from a hamstring strain suffered in Thursday's preseason game at Baltimore.
"It's great having him back," Gross said. "I like the O-line group we've had, but there have been some injuries and a little bit of uncertainty. He's a guy you can bring in that knows the offense and knows the guys. He was already running some with the first group today. That's pretty impressive."
It's doubly impressive given that Wharton missed all of the 2012 season. After signing with the Cincinnati Bengals, he tore the anterior cruciate ligament in his right knee during the first preseason game.
"My knee is strong," Wharton said. "I'm still going to keep the maintenance up. I'm always going to wear my brace."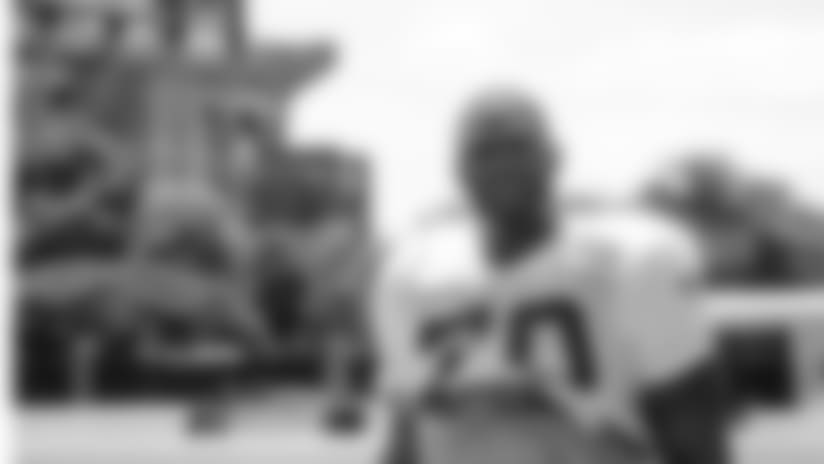 Wharton had the brace in hand when Gross, who lives in his neighborhood, pulled up at 6:10 a.m. Monday to restart their two-man carpool. Once they made it through morning meetings and made their way to the practice field, his teammates properly welcomed him back by chanting his name during team stretch.
"Ryan Kalil started that," Wharton said. "I'm a guy that doesn't like that kind of attention. I was telling him to stop it, but it was good."
Kalil, the Panthers' Pro Bowl center, said it's good to have Wharton back in the fold.
"Anytime you can get a guy that has that kind of experience and somebody that we've played with, that's huge," Kalil said. "Plus he's been in this offense, so the recall is fairly quick for him. Just being here Day One, he's already making some of the calls that we've made for the last three weeks or so."
The Panthers tried Wharton out a month ago, but nothing came of it. Other offers came along that he could have considered, but all along he hoped the Panthers would come calling again.
"The phone was ringing, but I knew where I wanted to be," Wharton said. "My kids just started school, and I didn't want to leave them. My family gets to watch me play, and we don't have to do all the moving that we were prepared to do.
"I can't ask for anything better. I'm back home."