CHARLOTTE – Some late-season games without playoff implications lack intensity.
Not this one. Not the Panthers' 17-6 victory over the Oakland Raiders in the team's home finale at Bank of America Stadium.
Carolina's victory on Sunday –its third consecutive win – was as physical a game as the Panthers have played all season. And it was plenty feisty with six combined personal fouls.
"It was one of those games where you had to have a gutty performance," head coach Ron Rivera said. "(The Raiders) came in and played with a lot of energy. We matched that energy, and it was a dogfight."
Wide receiver Steve Smith's 23-yard touchdown catch in the first quarter proved to be the winning score, thanks to a swarming defensive effort that limited the Raiders to just two field goals and 189 total yards.
"A lot of people try to judge us on how hard we play. Why are we playing so hard? We don't have anything to play for," said linebacker Thomas Davis, who finished second on the team with eight tackles. "We play for the men in this room. We play for this organization. We play for our coaches. And we play for these fans in Carolina. Don't tell us we don't have anything to play for."
Shortly after Smith's score with 3:12 left in the first quarter, Panthers defensive end Greg Hardy drilled Raiders quarterback Carson Palmer as he threw on third-and-1 from the Oakland 29-yard line.
The pass fell incomplete, but Hardy was penalized for roughing the passer. Palmer suffered a rib injury on the play and did not return, giving way to backup Matt Leinart.
Leinart engineered an 11-play, 73-yard scoring drive in the second quarter that led to a 21-yard field goal from Sebastian Janikowski.
Graham Gano tried to counter that score with a 48-yard attempt on the ensuing Carolina possession, but his kick sailed wide right with 1:41 remaining in the first half.
The Raiders took over with two timeouts at their disposal, but three plays later, the ball was in the hands of linebacker Luke Kuechly.
The rookie – who finished with a game-high 13 tackles – stepped in front of a pass down the right seam for Denarius Moore and returned his second career interception to the Oakland 29-yard line.
"I was just trying to read off what (Leinart) was looking at, and he was looking there for quite a while," Kuechly said. "I made a break on the ball and was able to make a play."
A 22-yard screen pass to running back DeAngelo Williams set the Panthers up for first-and-goal from the 7-yard line. On third-and-goal with 24 seconds to go in the half, Newton scrambled away from pressure for a 3-yard touchdown run to give Carolina a 14-3 lead at halftime.
Following an Oakland three-and-out to start the second half, Panthers punt returner Joe Adams, fumbled and the Raiders recovered at the Carolina 32-yard line.
But Oakland moved back 10 yards after three plays and punted.
"It doesn't matter what position we are put in. As a defense, it's our responsibility to stop the offense," Davis said. "We were able to go out and do that today." 
Newton's streak of 176 passes without an interception – a franchise record – was broken on the final play of the third quarter.
Linebacker Miles Burris picked off a deflected pass intended for Smith, giving Oakland the ball at the Carolina 18-yard line to start the fourth quarter.
On third-and-nine, safety Charles Godfrey was penalized for unnecessary roughness for a hit on wide receiver Rod Streater, giving Oakland a first down.
Two plays later, running back Darren McFadden – who had just 33 yards on 17 carries – trotted into the end zone, but his 3-yard touchdown run was called back for holding.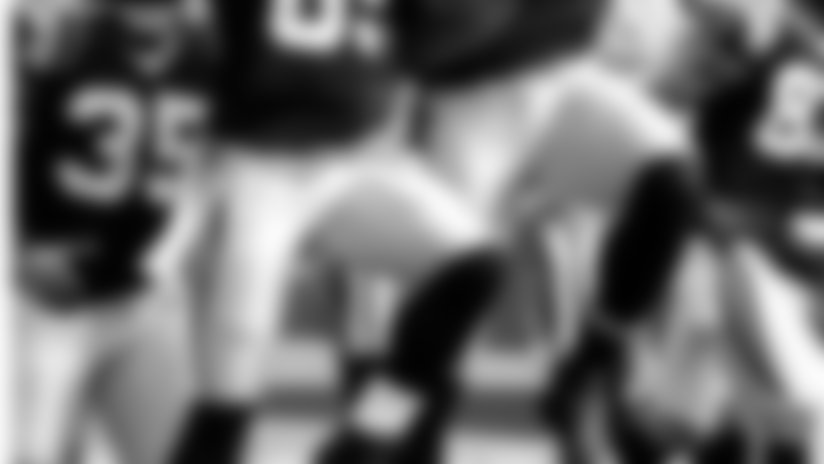 The Panthers then forced two incompletions, and Oakland settled for a 31-yard Janikowski field goal with 13:18 remaining in the fourth quarter. The scoring drive: seven plays, five yards.
"With me throwing the pick, it put my team in a bad situation," Newton said. "Those guys (on defense) stepped right up and held them to a field goal."
Added Rivera: "The defense was outstanding. I was real proud of how those guys were put in a couple of tough situations and played good red zone defense."
Trailing 14-6, the Raiders made a late push for the game-tying score with just over five minutes left, but on fourth-and-4 from the Carolina 24-yard line, Hardy broke up a swing pass intended for McFadden.
A 19-yard run from Newton, followed by a 20-yard completion to tight end Greg Olsen, put the Panthers in field goal range.
After forcing Oakland to burn all three timeouts, Gano converted a 51-yard field goal to give Carolina a two score advantage with 2:46 to go.
"I wanted that kick," Gano said. "I was hoping that I would have that opportunity since I had missed that earlier one."
The Panthers forced another turnover on downs before running out the clock for their first three-game win streak since 2009.
"Our players are learning and growing," Rivera said. "This football team most certainly has developed and shown what we can potentially become."