CHARLOTTE – Former NFL commissioner Paul Tagliabue began a relationship with Panthers Owner/Founder Jerry Richardson shortly after Tagliabue announced in 1990 that the league planned to expand.
Nearly four years later, Tagliabue and the NFL awarded Richardson and the Panthers an expansion franchise. Sunday, Tagliabue was Richardson's invited guest for the Panthers' game against the Saints at Bank of America Stadium.
"If it's been successful – and I think it's been tremendously successful – it's what we expected," said Tagliabue, who welcomed four new franchises into the league during a 17-year tenure that's made him a Pro Football Hall of Fame finalist. "We pretty quickly came to the conclusion that Jerry as a leader and Carolina as a leading market would be a really good place to put an expansion team."
Prior to Sunday's game, Tagliabue and Richardson discussed how the 81-year-old owner can best balance leading his team and being a leading voice in league issues.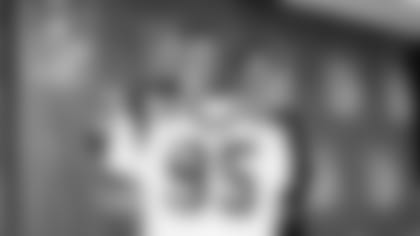 "He's anxious to continue to do that, but he's just as anxious – more anxious in fact based on my conversations with him – to keep his focus on the Carolina Panthers," Tagliabue said. "He knows that he's got a good football team, and he wants it to become a great football team that's winning the Super Bowl and maybe not just once.
"That's his number one priority, and I've told him, 'At a certain point in life, you can't have 10 priorities. You can have one or two. So make the Panthers your priority and let other people worry about what's going on in the league. You don't have to go to every meeting. You don't have to be involved in every issue.'
"He can be involved in stadium issues – which Jerry knows a lot about – and he can be involved in labor issues, which he knows a lot about. But you don't have to be as broadly involved as the commissioner or as some of the younger owners. You can pass the baton to the next generation and keep your focus on your own team and on a few things, and I think he's doing that very well."
Tagliabue wound up in Charlotte on a day when issues of a political nature are a big part of the conversation. One day after President Donald Trump denounced NFL players who "disrespect the flag" during the national anthem before games, Tagliabue was asked for his view.
"I'm a private citizen now, so I'm not speaking for the league; I don't represent the league. But from my perspective, I think I know a little bit about NFL players, and from my perspective they're engaged in many, many positive things across America all the time, week in and week out," Tagliabue said. "Some of it is protest, demonstrations – speech – and some of it is supporting the military, some of it is working in their communities with police department, EMS, firefighters and celebrating that as the Cleveland Browns did a couple of weeks ago. I go to games in Baltimore where my grandkids live, so I know more about the players there who are in the community, working with the homeless, working with domestic violence.
"So for me to single out any group of players and call them S.O.B.'s, to me that's insulting and disgraceful. I think the players should get credit for what they do, and when it comes to speech, they're entitled to speak. We're entitled to listen, we're entitled to disagree or agree for that matter. We're not entitled to shut anybody's speech down. Sometimes you don't like what you hear – that's true in life in lots of contexts – but you can't shut people down and you can't be disgraceful when you're doing it."