Draft choices are held in high regard, and trading them for veteran players is often a risky proposition. Such trades in the NFL have been relatively uncommon in recent seasons.
The Panthers have had mixed results doing so in their 20-year history. When George Seifert replaced Dom Capers as head coach after the 1998 season, Seifert was intent on using at least one pick in the 1999 NFL Draft as currency to acquire a veteran quarterback.
But the Panthers were without a first-round choice in 1999 because of Capers' decision to sign franchise free agent Sean Gilbert to a five-year, $46.5 million contract prior to the 1998 season. The cost was high in more than just dollars - the Panthers gave the Washington Redskins, Gilbert's former team, not only their 1999 first-round selection but also their 2000 first-rounder.
While the Panthers still had two second-round picks in 1999, which they used on offensive tackle Chris Terry and defensive end Mike Rucker, Seifert traded their third-round choice plus a fourth-round selection in 2000 to Denver for quarterback Jeff Lewis, who had been John Elway's backup and one-time heir apparent.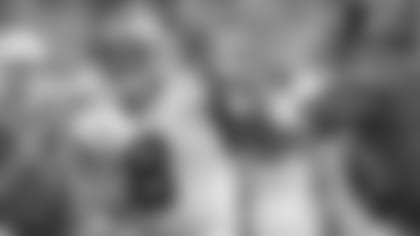 Carolina acquired quarterback Jeff Lewis from Denver in exchange for a 1999 third-round draft choice and 2000 fourth-round draft pick.
When both Gilbert and Lewis failed to live up to expectations, the whole sequence of events became a case study for why teams need to be careful when dealing draft picks for players. It's also something that doesn't occur nearly as much as it used to in the NFL these days, perhaps at least in part due to this cautionary tale.
"You'll still see it, just not as often," said Panthers general manager Dave Gettleman.
Former Panthers general manager Marty Hurney, now part-owner of a radio station and co-host of a national radio show, agrees.
"I think teams have learned, and every year teams have gotten better at managing the salary cap," said Hurney, who worked as one of the league's first salary-cap experts for the San Diego Chargers before coming to Carolina in 1998 and becoming general manager in 2002 - a position he held until midway through the 2012 season. "And the best way to manage the salary cap is to accumulate draft picks and then hit on those draft picks. Because those are players who you know you have for three, four or five years.
"So I think that there are a lot of teams that are probably still willing to trade players for draft picks but I don't think there are many teams who really get excited about trading draft picks for players."
Both Gettleman and Hurney said there is another basic reason why teams would rather keep their own draft picks than risk trading them away for veterans. The drafted players are less expensive, as the veterans usually are accompanied by a higher salary and in some cases an attitude that in the long run may not be conducive to helping the team win.
"There are certain teams who have a model where they accumulate draft picks. And if you have great confidence in your ability to draft, that's really where you kind of want to get to," Gettleman said. "You want to grow your own. You want to get them in your culture. This is the Panther culture; this is the way we do things.
"You want them to be invested in you as much as you want to be invested in them. That's why the teams that consistently build through the draft are the teams that are consistently at the top."
Hurney added that historically it just hasn't made much fiscal sense to risk millions of dollars on veterans while giving up draft choices, the lifeblood of any organization, to do so. He didn't say it, but he didn't have to - the Panthers' willingness to do so on Gilbert and Lewis set the team back for years.
"There are a lot of teams even now that would trade players. But teams are more reluctant to give up draft picks," Hurney said. "Normally a veteran player carries a large salary with him as well. If a team is trying to trade a player, more times than not he's probably got a pretty large salary. So if you're in the position of the other team that has draft picks, now you're trading draft picks for a player who has a large salary - and you just can't do that a lot. It catches up with you.
"Again, the best way to manage your salary cap is to draft well. And the more draft picks you accumulate, the more the odds are in your favor that you will pick up players who will stick with you."