The entire Panthers team was impacted on multiple levels by the news that former first-round pick Kelvin Benjamin had been traded to the Bills, but no group experienced it quite like his fellow receivers.
Here's what some of the pass catchers as well as some other teammates had to say Wednesday, the first day of practice without Benjamin.
On the trade:"It surprised everyone in this building, it surprised some of the people on the coaching staff. It just shows you that as much of a game this is, it's also a business and some decisions come from left field."
On playing with Benjamin:"Kelvin Benjamin was an amazing teammate. He was guy that came in everyday and worked his butt off. It's been an honor to see him develop and grow. Since seeing him come in the league in 2014, I've been a big fan of his and it was a great opportunity to be a teammate of his. He played a part in me coming here and learning some things, and helping him grow in certain aspects of his game. I think it's similar to what they went through in 2015. Different situation, but you had a 1,000-yard receiver, very productive, go down, and others guy had to step up and take the reins. I think we'll be asking guys to expand their roles and do things we haven't asked them to do this year. I think it'll be a great situation for a lot of us young guys."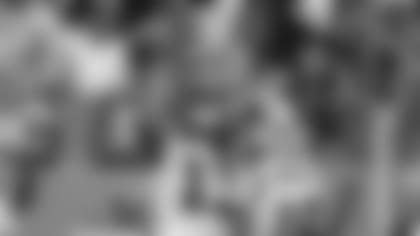 On Devin Funchess' responsibility now:"Devin has been a guy that's stepped up to the count every week. He's been very dependable and consistent this season when we've thrown the ball his way. I think he's going to be a guy we ask to do a little more. Myself, Curtis Samuel, (Kaelin) Clay, and whoever they bring in – it's going to take guys like us to expand our roles and make plays consistently."
On putting trade in the rearview mirror and the Falcons on the front burner:"You have to. You have to respect the decision of the people upstairs. You have to respect the decision of the coaching staff. You just have to do your part to make the most of opportunities when they come your way knowing we had a guy that was very productive and a big part of the offense isn't going to be here anymore. At the end of the day, you can't really ponder on it or worry about it too much. You just have to do your part to make the best of the situation."
On how the trade changes his role:"I just have to be mentally ready and go out there and make plays. They are depending on me more, and I need to step up. I just need to follow everyone else and do the right things – practice with the right attitude."
On what the team can do without Benjamin:"We're going to have the same approach and not having another 6-foot-5 guy, we have more speed. Giving more people a chance to get out there make plays is what it's about."
On stretching the field even more:"That trade doesn't do anything to me mentality because I already had that mindset that I was starting even when I wasn't. I feel like I was doing that even when he was here."
On his comfort level with the playbook having rejoined the team just last week:"I'm comfortable. There's still a couple of things, but it's not too major or anything that would throw me off. I probably retained 80 percent of the playbook and I'm confident, ready to play."
On stretching the field like he did in the preseason:"That is what I'm known for, but I want to become a complete receiver, not just going deep and catching the ball. That's probably my MO – going deep, taking the top off the defense – but whatever helps us win games."
On moving toward possibly coming off injured reserve:"It felt good to finally be out there. It's really been a few weeks laying low having a broken arm and me rehabbing is really just me waiting it out. It was good to be out there. Hopefully they will be able to bring me off IR. They've been speaking as if it's a strong possibility, so I'll just wait and see how the next few weeks shake out."
On providing the team with a deep threat:"Yeah, I think any time deep threat comes into the category, I think I fit into that perfectly. That's exactly what my strong suit is, and hopefully I'm able to get off IR and come in and help this team win."
On if this is a message to the locker room:"I don't know. Personally, everything is a message. If you're not producing or are a part of something were doing as a team, you could be gone at any moment.
"We can sit here and cry about it and say we don't understand it as players, but that's not going to do anything. We've got games to win. Atlanta is coming in here hungry and ready to play."
On how the veterans see this: "First, it's business. We can't be upset; we can't let it affect the next day. We had a Wednesday practice today and we did pretty good out there. My message as a veteran player to the younger guys is that there's a spot open. Are you going to sit there and dwell on it or go out there and take advantage of an opportunity? I use an example of myself. Unfortunately, it came off the eve of Greg (Olsen) being hurt, but you need to take advantage of the opportunity. Everything happens for a reason."
On how Cam Newton will respond to the trade: "He's a professional. I'm pretty sure they had a conversation with each other and will continue to be friends. He's a professional and he has a job to do. He knows that and there's a lot of other players on this team that count on him."
On the business of football: "I was around when they cut Peyton Manning. I was on the same team when they cut Champ Bailey. So nothing surprises me anymore. It's just business. We'll never know reasons behind a lot of moves that are made, whether it's here, San Francisco, Cleveland. That's why I just come to work. I'm glad my key worked when I got here and I was able to come here and practice today and I'll be playing on Sunday."
On the team leaning on him and the remaining receivers:"Definitely, it's a team game, and I think our whole offense is going to have to step up, which is great because I think our team is ready for it."
View photos from the week of practice leading up to the Panthers' game against the Falcons.