SPARTANBURG, S.C. – Preseason games are much more than an exhibition for undrafted rookies like Tauren Poole.
The running back knows his performances in the four preseason contests will likely determine whether or not he makes the 53-man roster, filling a depth role behind DeAngelo Williams, Jonathan Stewart and Mike Tolbert.
All that considered, Poole expected to battle some nerves prior to kickoff against the Houston Texans to start the preseason – the same pregame feeling he's felt during his entire football career.
"That was the first time I was not nervous for a football game," Poole said. "I don't know what it was, I just wasn't nervous. I felt like I was at home kind of -- like I belong in this league."
Poole rushed four times for a team-high 26 yards against the Texans and scored the Panthers' only touchdown on a 1-yard plunge.
He was decisive and ran with authority, like he had something to prove.
"I've been like that my whole entire life," Poole said. "I expect people to overlook me. I don't care too much for attention. I just want to play football and I want to be good at what I do."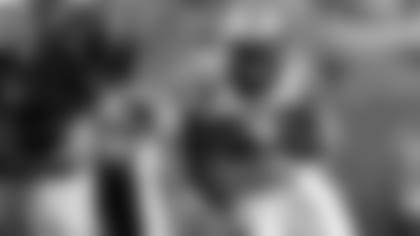 One of the game's best had some encouraging words for Poole when the preseason opener came to an end.
Texans star running back Arian Foster – who also entered the NFL as an undrafted free agent and was Poole's teammate at the University of Tennessee – made sure to catch up with an old friend.
"I met him after the game and he actually told me he was proud of me, like a big brother," Poole said. "That's huge coming from him. He's accomplished a lot and he has the same story I have."
But Poole's NFL story is only at the beginning. And as is the case for all undrafted rookies, his story can end as soon as it begins.
The next opportunity presents itself Friday against the Miami Dolphins, and Poole doesn't need to be told how critical it is.
"You only get so many chances," Poole said. "What are you going to do with those chances? I need to take advantage of every chance I get."