The Panthers' defensive line featured a Pro Bowler -- defensive end Julius Peppers, whose 14-sack season was punctuated by a run of seven sacks over four games in November that earned him NFC Defensive Player of the Month plaudits.
But the line was more than just one man, and its collective performance was also headlined by a solid season from a newcomer via free agency, crucial plays from defensive tackles Maake Kemoeatu and Damione Lewis and a needed step forward from defensive end Charles Johnson, who emerged as a crucial element of the Panthers' pass rush.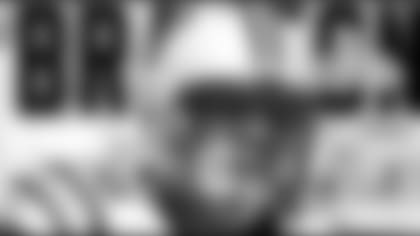 After spending the previous four seasons moving between outside linebacker and defensive end, Brayton finally found a home with the Panthers at left defensive end, starting all 16 games for the first time since his rookie season in Oakland, where he spent the first five years of his career before joining Carolina last offseason as an unrestricted free agent.
Brayton became one of the defensive line's most consistent performers, particularly late in the season, when he had at least five tackles in each of the last five games of the regular season and notched six tackles in Weeks 14-17.   He also notched sacks in consecutive games against Tampa Bay, Denver and the Giants; his sack against the Bucs came on the second play from scrimmage and helped force a three-and-out that allowed the Panthers to get the jump on the Buccaneers; Carolina scored on its subsequent possession and never trailed from that point forward.
The six-year veteran -- who broke up four passes and accounted for 13 quarterback hurries -- also moved inside when needed, particularly in the late stages of the Week 16 loss to the New York Giants in the wake of injuries to defensive tackles Maake Kemoeatu, Gary Gibson and Damione Lewis.
One play showed just how valuable Kemoeatu was last season -- a fourth-and-1, midfield stop just after the two-minute warning against the Chicago Bears that preserved a 20-17 win and a 2-0 start.
The play was typical of Kemoeatu's season -- success as a result of persistence and power, as he provided the momentum that allowed teammates to help him Chicago's offensive line and engulfed Bears fullback Jason McKie.  Second and third efforts by the muscular fullback-- who had scored Chicago's only offensive touchdown and had set up another field goal by carrying a slew of Panthers for six yards on a third-and-1-- were to no avail as Kemoeatu and his teammates celebrated.
His other crucial play came against Arizona in Week 8 when he corralled Edgerrin James in the backfield for a three-yard loss in the third quarter, forcing a fumble that Thomas Davis recovered.  The play set up a game-tying Steve Smith touchdown reception on the next snap as the Panthers went on to win 27-23.
Kemoeatu's December was derailed by an ankle injury that placed him on the inactive list for the games at New York and New Orleans, but he managed to return to the lineup for the playoff loss to Arizona.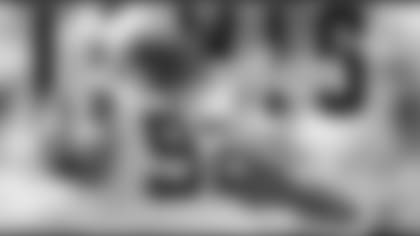 By one measurement, 2008 was the most successful season of Lewis' career.  He started 15 games -- a career-high and more than he had started in the 2005-07 seasons combined -- and matched his sack total from the previous season, logging 3.5 sacks.
Lewis also had a career-high two forced fumbles -- one from Detroit tight end Michael Gaines in Week 11 and another from Tampa Bay quarterback Jeff Garcia three weeks later.
But the measure of Lewis' value came when he left the game against the Giants with a shoulder injury.  Without him and Kemoeatu, who had hurt his ankle a week earlier, the Giants ran through the Panthers for over 150 yards in the fourth quarter and overtime of what became a 34-28 defeat.
"Oh my God," he said three days later. "Just sitting there and watching it on the sidelines when I wasn't in (was difficult)."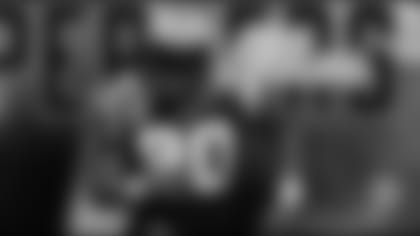 Going into his seventh NFL season, defensive end Julius Peppers admitted feeling better  than he had in the previous campaign, when he struggled to a career-low two sacks.
"I feel a little stronger," Peppers said last summer at training camp. "I feel more powerful, faster, a little bigger.  I've got a little more weight."
The end result for Peppers was a fourth Pro Bowl invitation after he notched a career-best 14.5 sacks and 63 tackles, while adding 29 quarterback hurries and 16 tackles for losses.  More than half of his sacks -- 9.5 of the 14.5 -- came in a five-week stretch following the bye week, including three at Oakland, two against Detroit and two at Green Bay.
Peppers' sack total was the highest for a Panther in a single season since Kevin Greene logged a franchise-record 15 in 1998.  The 14.5 sacks for Peppers matched Greene's 1996 tally.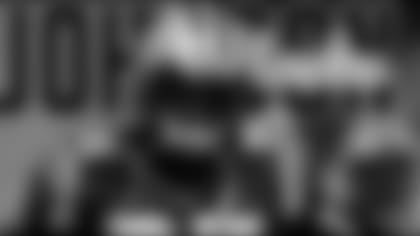 Johnson's second year saw him in a rotational role, with most of his work coming in pass-rush situations.  He finished the year with six sacks -- the second-best total on the team behind Peppers -- and also logged 19 quarterback hurries.
Two of his sacks came in the Week 8 win over Arizona, including one that saw Kurt Warner fumble, stopping a Cardinals drive in the red zone.
He ended the year with an average of half a sack per game in the final 12 contests, beginning with a sack of Kansas City quarterback Tyler Thigpen in Week 5.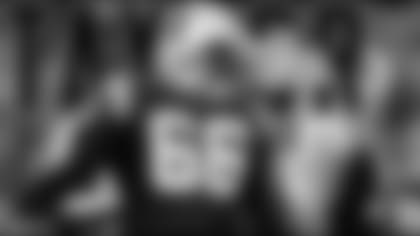 There was plenty of experimentation with seventh-round pick Hilee Taylor throughout the offseason and at training camp, including some work at outside linebacker.  But ultimately he settled in at defensive end -- and after being inactive for the first three games, he played in eight of the next nine games before suffering a thigh injury that sidelined him in Weeks 14-16 before he returned for the regular-season finale at New Orleans.
Playing as a rookie brought him a step closer to the goal he set in the offseason after the Panthers drafted the product of Scotland County (N.C.) High School -- to spend his career with the Panthers.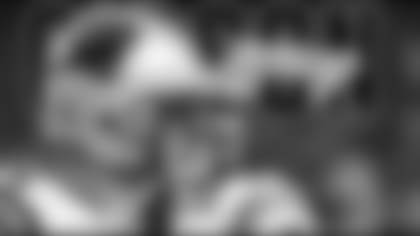 Until defensive tackle Gary Gibson succumbed to a hand injury in December, his development had been one of the more underrated stories of Carolina's season, as he had used a stellar training camp and preseason -- which included a starting assignment against the Indianapolis Colts in the August opener.
Gibson played in 11 games in 2008 before being injured, logging 10 total tackles and a pair of quarterback hurries -- one in Week 8 against Arizona and another in Week 15 against Denver.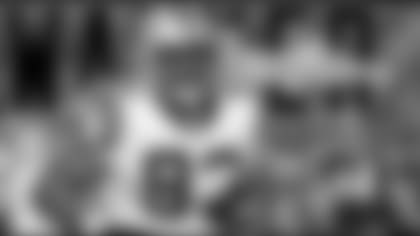 Darwin Walker broke into the starting lineup in Week 16 at New York after Kemoeatu was hurt and remained there the following week, logging five of his 12 tackles for the season in those two games. Walker ended the year with 11 games played, sitting out four contests as a result of a neck injury suffered in a traffic accident; he was also a healthy scratch for Week 6 at Tampa Bay.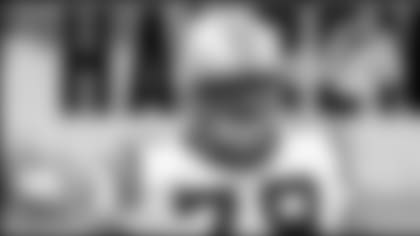 After spending most of his rookie season on the practice squad, Wisconsin product Nick Hayden was promoted to the 53-man roster after Kemoeatu's ankle injury and then found himself in the starting lineup for Week 17 at New Orleans after Lewis was hurt against the Giants. Hayden proceeded to notch two tackles and a pair of hurries on Saints quarterback Drew Brees in the game.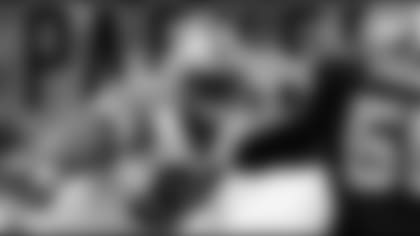 One day, J'Vonne Parker was on the Falcons' practice squad, not expecting to see any game action and hoping the Panthers would lose so his team could win a division title. The next, he was driving to Charlotte, a part of the team's 53-man roster, and in the lineup for the division-clinching season finale at New Orleans.
So it goes sometimes in the NFL, with Parker pressed into service because of injuries to Lewis, Kemoeatu and Gibson.
"On the three-hour ride out here from Atlanta, I was thinking about that the whole time," he said. "I said, 'OK, I've got to switch gears.'  I was just hoping they'd lose, and now I'm playing for them.   It was a wild story."
Opportunities for Parker to play have been relatively scarce as he bounced around four teams over three seasons before joining the Panthers in late December.  But his place on the Panthers' roster gives him another chance -- in the state in which he was born.
Rounding out the defensive linemen are two members of the practice squad -- Casper Brinkley and Lorenzo Williams -- and January signee Patrick MacDonald, who spent last season with the Calgary Stampeders of the Canadian Football League and also has experience as a long snapper.