CHARLOTTE -- Most of the time, a good year for the offensive line is predicated on one factor above all else: good health.
Keep the starting five upright and intact, and typically success follows, something that is as much the product of consistency and skill.  Because line play is such a collaborative effort, keeping a unit intact is at least as important -- if not moreso -- than the procurement of raw talent.
But the Panthers didn't have that in 2008.  One first-teamer, right guard Keydrick Vincent, finished the season on injured reserve.  No players on the first unit played all 16 games, and the five starters combined to miss 13 games.
Here, depth and cohesion developed in training camp came into play.
"Every day the coaches tell us, 'You never know when your play will come, and just be ready,'" said Frank Omiyale, who was twice pressed into service at left tackle -- including his first professional start against Kansas City.
The result was a collective performance that helped Jonathan Stewart and DeAngelo Williams become the first running backs to combine for 2,000 yards while each running for 10 or more touchdowns in a season.  It produced a Pro Bowl starter in left tackle Jordan Gross, a promising rookie in right tackle Jeff Otah while emerging from the season as one of the league's elite lines.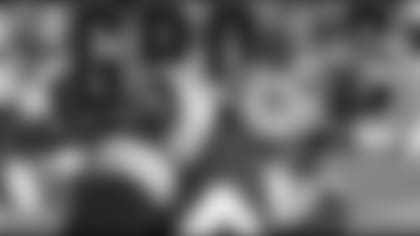 Going into the season, there were questions about how Jordan Gross would handle the move back to left tackle. After it, those questions were faded echoes, as Gross finished his sixth NFL season with his first Pro Bowl appearance – and a starting assignment in the annual all-star game, to boot.
"It's something I think every player wants," Gross said in December. "I've been hoping for it the last few seasons, but winning helps, and it's just a tribute to what we've done as an offensive line this year."
The only loss Gross suffered individually last year was to his consecutive games streak, which ended at 84 after he suffered a head injury early in the Week 4 win over the Falcons. He sat out the following game against Kansas City, with Frank Omiyale taking his place.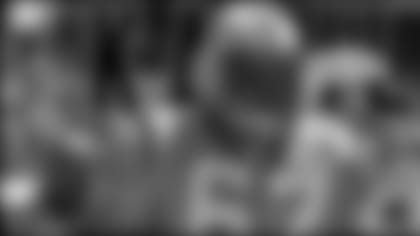 Year two for Ryan Kalil as a Panther saw him make the leap the team expected, not only taking over at center but blossoming as the fulcrum of the line.  The only snag in his growth came with an October ankle injury that sidelined him for three games that month, and then for another in November after he returned against the Oakland Raiders, making a brief appearance before departing.
Kalil recovered, however, and did not miss any time in the final six games of the regular season and the playoff loss to Arizona.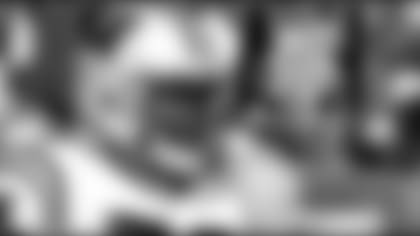 It was a season of on-the-job learning for Otah, the second of Carolina's two first-round picks last year, and it wasn't without setback, as an ankle injury suffered in the Week 4 win over the Atlanta Falcons torpedoed his October.
But after he returned following the bye week in the 17-6 win at Oakland, the 6-foot-6, 330-pounder began flourishing, helping Stewart and Williams to a combined eight 100-yard games in the second half of the season.  Many of their yards came behind Otah, who by the end of December had established himself as one of the fiercest young run blockers in the league.
The ankle injury of October, the high ankle sprain that kept him sidelined for the pre-draft workouts and early May minicamp … those were unpleasant memories by late December.   He suffered a toe injury in Week 17 at New Orleans, but was back in the lineup for the playoffs.
"He's still a work (in progress), but there's a good body of work," quarterback Jake Delhomme said. "But he's a big, large man, he's powerful, and he's still learning."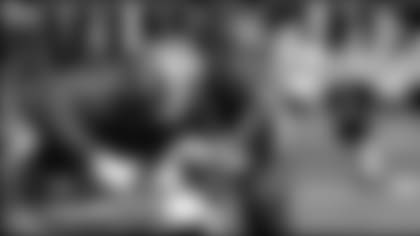 Until Week 15, right guard Keydrick Vincent was the iron man of the Panthers' offensive line, the only one of the starting quintet who had not succumbed to injury at some point during the season.
Against the Broncos, however, that changed, as Vincent left the field early in the fourth quarter with a groin injury.
"I just tore it right off the bone," he said as he left Bank of America Stadium the day after the playoff loss last month. "It's actually a good tear, because actually it's going to make me more flexible.  Sumo wrestlers get it done all the time.
"It sounds bad, but I actually think it's a good thing for me, because I can center my hips better and stuff like that.  So it's not that serious."
It was a lamentable end to a season worthy of celebration for the 30-year-old, eight-year veteran, who had battled injuries and instability over the previous four seasons, which saw him bounce from Pittsburgh to Baltimore and on to Arizona before signing with the Panthers and ultimately beating out Toniu Fonoti in a training-camp scrum for the right guard slot.
His season ended on injured reserve, but he anticipates nothing holding him back when the time comes to don the helmet and pads once again.
"I'll be ready to go," he said.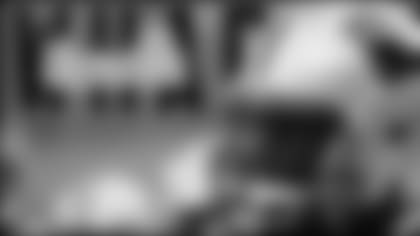 Wharton's back-and-forth between left guard and left tackle over the course of his five-season career saw him back at left guard, with some work at left tackle for Gross against Atlanta in Week 4 thrown in.
As expected, Wharton fared well, giving the Panthers ample experience on the left side that helped as newcomers Vincent and Otah got used to their roles on the right side throughout the season.
"You didn't want to be the weak link on that line," Wharton said. "You just went out there and played well for each other."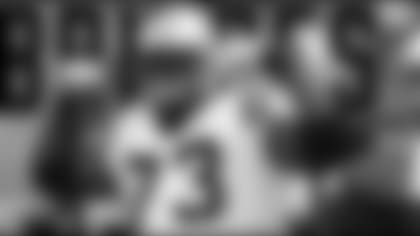 Variety was the spice of Jeremy Bridges' life this year, as he started both positions on the right side of the offensive line – at right tackle in the first half of the season when Wharton and Otah were injured at different junctures, and then at right guard to conclude the year after Vincent was lost to his groin injury.
Bridges first split time with Geoff Hangartner at right guard, then saw all the action after Hangartner was injured against New Orleans, starting the divisional-playoff loss to Arizona. But it didn't take much for Bridges to get reacquainted with right guard, where he started for 10 games in 2007.
"It's just a different stance," he said. "A little different footwork. As a right tackle, you should know what your right guard is doing, so assignment-wise, it's not really a mental challenge. I know what I'm doing at right guard. It wasn't much of adjustment."
In the past three seasons, only Gross and Wharton have started more games for the Panthers on the offensive line than Bridges, who has 28 starts up front at right tackle and right guard.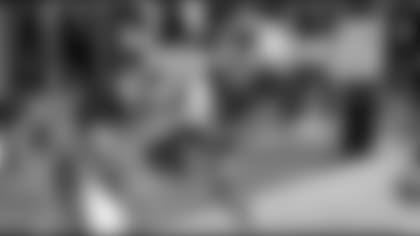 Right behind Bridges in starts the last three seasons is Hangartner, whose fourth season saw him start twice at left guard, twice at right guard and four times at center, showing that he was clearly the Panthers' primary reserve option on the interior.
"That's what they pay me to do," Hangartner said in September. "That's been my role around here and in quite a few years I've gotten to know all three inside positions."
Added Gross: "He's as good a backup as you can get."
When Otah and Gross were both down for the Week 5 game against the Chiefs, Frank Omiyale received his first career spot – and did so at left tackle. In that 34-0 rout over Kansas City, Williams didn't notice any discernible difference.
"There wasn't much of a drop-off from our starting offensive tackles to the ones backing them up," he said. "I've got to give that to the front office to them drafting guys and getting good guys here that can play."
Omiyale would be asked to play left tackle once more – in Week 17 at New Orleans, after Otah hurt his toe. Gross, who had started at right tackle in earlier seasons, moved there to take Otah's slot, leaving Omiyale at the spot for some of the season's most crucial moments … a true sign of the Panthers' faith in the 26-year-old.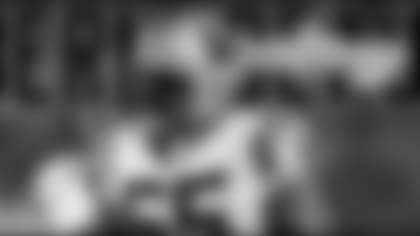 The last of the Panthers' nine draft picks last April knew going into his rookie campaign that it would likely be spent in practice-field development.
"I'm reaching for everything," he said in June. "My goal is to be a starting guard. But (above) anything -- I want to be on the squad."
That proved to be the case, as he did make the 53-man roster, even though he did not see any game action this season. The Panthers' line was rocked with injuries throughout the year, but they were dispersed and spread out enough to prevent Bernadeau from taking the field.
This year, he hopes to take the next step.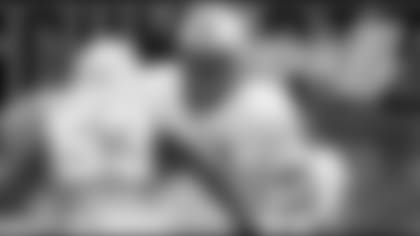 Like Bernadeau, Oregon alumnus Geoff Schwartz was a seventh-round pick whose work was confined to the practice field.  He was on the practice squad for the entire season after seeing plenty of training-camp and preseason work at right tackle, and could find himself in the mix to move up the depth chart and take on a more crucial reserve role this season.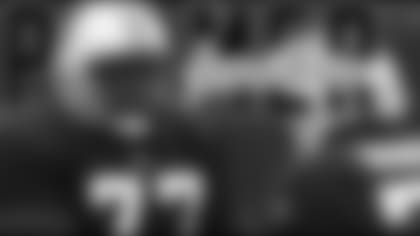 A 6-foot-4, 336-pound lineman, Jonathan Palmer spent the last three months of the season on the practice squad after joining it on Sept. 30 and remaining there for the balance of the season. Carolina signed him to a reserve-future contract after the season, which will give him a chance to work with the team in the upcoming offseason as he tries to make it back to a 53-man roster, which he last saw for the final week of the 2007 regular season with the Oakland Raiders.