When the Panthers had to test their depth at wide receiver in 2008, they passed.
 
In Week 1, the absence of Steve Smith did not keep Jake Delhomme from throwing 41 times, or from finding a variety of pass-catchers on what turned out to be the game-winning drive.  Muhsin Muhammad, D.J. Hackett and Dwayne Jarrett all made crucial receptions on the possession, which culimated in Dante Rosario's game-ending touchdown.
 
But once Smith returned, that depth went largely untested.  The Pro Bowler and Muhammad didn't miss a game for the rest of the season, and combined for 143 receptions, 2,344 yards and 11 touchdowns.  The remainder of the wide receiver corps combined for 25 catches, 332 yards and no scores.
 
But when asked, they delivered -- particularly Jarrett, whose knack for drive-sustaining third-down receptions helped the Panthers clinch the Week 8 win over Arizona and offered a glimpse into his promise as a big, sure-handed target wading into traffic on slants and crossing routes.
 
Without further ado, let's take a look back at the Panthers' wide receivers in 2008 ...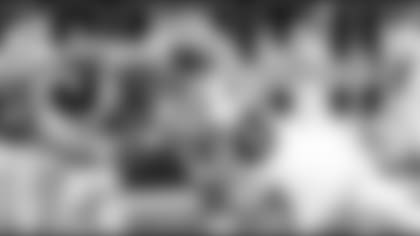 Steve Smith had caught more passes than the 78 he grabbed in 2008.  He'd amassed more yards than the 1,421 he tallied. But he'd never had more yardage per game or per catch than he did last fall, averaging 18.2 yards per reception and 101.5 yards per game to reaffirm his claim to a spot among the sport's elite.
His year ended in the Pro Bowl, which couldn't have been much further in mileage and morale from where he stood in early August, when an incident with Ken Lucas at training camp left him contrite, but with a two-game suspension that forced him to remain at home while the Panthers faced the Chargers and Bears.
Carolina won both games, then won 10 of the 14 that followed after Smith returned.  Three of the wins probably wouldn't have happened without Smith's typically acrobatic exploits – a tight-rope, sideline catch in Week 8 against Arizona, a pair of leaping grabs near the goal line to set up touchdowns at Green Bay, and a brilliantly-timed leap at New Orleans that saw him come down with a football in traffic, helping set up the John Kasay field goal that gave Carolina its first division crown in five years.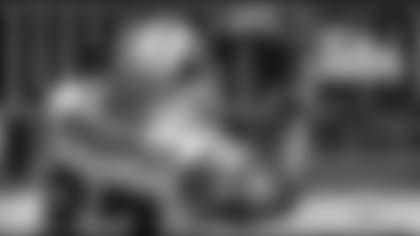 Muhammad returned to Carolina looking to prove that his three years in Chicago were an aberration, and not reflective of what he could still accomplish during the back half of a playing career that has now consumed 13 seasons.  He succeeded, as his 65 receptions and 923 yards were his highest single-season tallies since 2004, the final season of his first term with the Panthers.
He got stronger as the season progressed, averaging five receptions for 76.3 yards in the final three weeks of the regular season after averaging 3.8 catches for 53.4 yards in the first 13 games.
Muhammad continued to scratch his way up the league's all-time receiving charts.  He logged his 800th career reception in Week 16 at the New York Giants, finishing the season with 807 career grabs, and he surpassed the 10,000-yard mark in Week 2 and heads into 2009 just 243 yards shy of 11,000 for his career. 
The year also saw him re-establish his credentials as a leader, earning one of the Panthers' five team-captain slots along with Jake Delhomme, Jon Beason, John Kasay and Julius Peppers.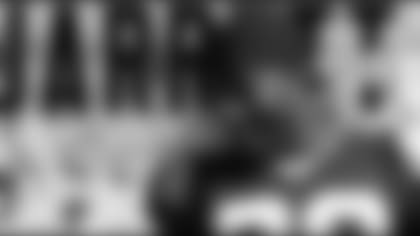 It wasn't how many catches Dwayne Jarrett had in his second season, but when he made them.
His statistical line of 10 receptions for 119 yards won't catch the attention of many, as he spent the season clawing for what playing time he could find behind established starters Smith and Muhammad.   But he made the most of his chances, with six of his receptions coming on third downs and another resuscitating a drive on fourth-and-6.
Remarkably, Jarrett had 8.6 percent of Carolina's third- and fourth-down conversions, even though he only had 4.1 percent of the team's reception total, with nine of his 10 receptions going for a first down.
"It just goes to show how much depth we have in the wide receiver corps," Smith said. "He is very dependable. He works his tail off and he continues to work his tail off."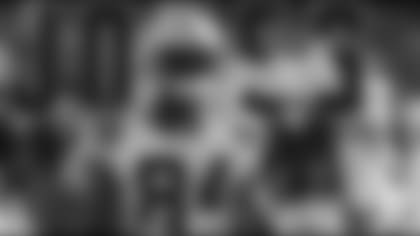 Jones had the first receptions of his career this season, but his biggest mark came on kickoff and punt returns, where he averaged 11.4 yards and 24.0 yards on punt and kickoff returns, respectively.
He provided crucial contributions in a pair of wins during the second half of the season.  At Oakland, he sprinted 55 yards with a Shane Lechler punt, setting up the game-clinching points via a John Kasay field goal.  Three weeks later at Green Bay, he returned three kickoffs to around midfield – including one inside of the game's final two minutes, which set up the acrobatic Smith catch that moved the Panthers to the Green Bay 1-yard-line, with the game-winning touchdown run following one play later.
Jones was acquired out of necessity on Labor Day weekend after Ryne Robinson and Jason Carter had succumbed to training-camp and preseason knee injuries, respectively.  But by the end of the season, he had an NFC Special Teams Player of the Week award for his work at Green Bay and had earned plaudits for his consistency on returns, even though he couldn't get the breakaway for a touchdown that would have been the first of his five-year career.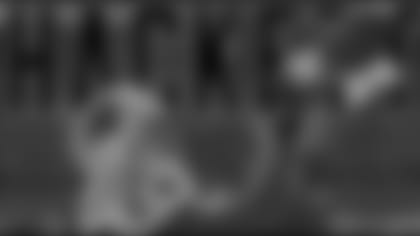 Three months after signing with the Panthers, knee pain flared up on D.J. Hackett during organized team activities last June, the first of three injuries that would sidetrack him over the following five months.   A toe injury scuttled his training camp and preseason, but he was able to return by the season opener and caught five passes for 48 yards as he started in place of Smith.
A month later, he injured his right knee while blocking for Jones on the opening kickoff against Kansas City.   It was this injury that proved most damaging in terms of playing time; he missed the balance of October before returning after the bye week at Oakland.
From there, his opportunities were occasional, and while he averaged 1.4 receptions in the nine games he played in 2008, he was inactive for five of the team's final seven contests, including the divisional-playoff loss to Arizona.  By season's end, he finished with 13 catches for 181 yards -- with six of his catches and 70 of the yards coming in Weeks 1-2, the only two starts he made while Smith was suspended.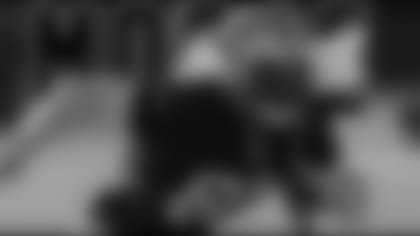 Kenneth Moore was trapped in a frustrating corner in early October, toiling on the practice squad of a team that was 0-4 and had lost 11 of its last 12 games.
Then his hometown team -- the one he grew up following -- called with an exquisite invitation, to join the 53-man roster and come back to Charlotte.
"I was in Detroit, just on a regular Tuesday," Moore said. "My agent called me and said, 'There might be some changes.'  I was excited about it.  Then it happened."
Moore would spend the next three months immersed in the Panthers' scheme, learning on the practice field.  The general good health of the team's receivers -- particularly Jones -- kept Moore from being in uniform for any of the 12 games that followed his arrival.
But that was okay for Moore, who was thinking of the future with Carolina on just his first day.
"In the short term, (my goal is) just to learn the system and try to get in where I fit in -- whatever they tell me to do, and just try to take advantage of it and do what I can," he said in October. "Long-term, I would just love to be a Panther, and be a part of this (organization) and be a great player for this team."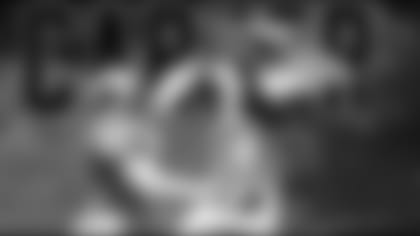 A promising training camp that saw Jason Carter catch virtually everything in sight ended with a torn anterior cruciate ligament suffered on a fourth-quarter punt return in the preseason win over the Redskins.
Carter had been the Panthers' primary punt and kickoff returner in August with Ryne Robinson injured, but he also caught five passes for 52 yards during the preseason, which included a starting assignment at Philadelphia on Aug. 14.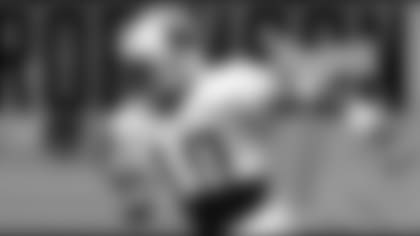 "Me and the training room have developed a relationship," Ryne Robinson said on Sept. 10, just under six weeks after he injured his knee while going out for a pass at training camp.  Unfortunately for the second-year wide receiver, that would prove to be his primary football relationship of the year, as he never took the field for a game, ultimately landing on injured reserve a month into the season.
By the end of the season, Robinson had recovered and said on checkout day that he would be ready for offseason work and organized team activities.  There, he'll hope to pick up where he left off after his rookie season, when he'd emerged as the Panthers' primary punt and kickoff returner.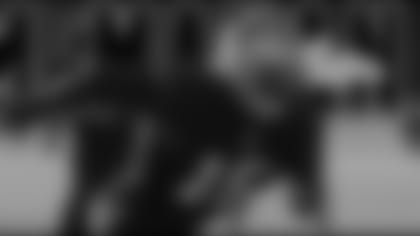 Added to the practice squad on Dec. 16, the 6-foot-2, 192-pounder was on the practice squads of the New York Giants and Kansas City Chiefs in 2007 and spent much of the 2008 offseason with the Chiefs before being waived on Aug. 30.  He remained out of football for the following 15 weeks until the Panthers picked him up.
McMahan, a product of Maine, was the "Mr. Irrelevant" of the 2006 NFL Draft, making him the guest of honor for Irrelevant Week ceremonies held by Newport Beach, Calif. after the Oakland Raiders selected him with the draft's final pick that year.