The Panthers tied for fifth in the NFL with 20 interceptions in 2013, but the cornerbacks currently on the roster accounted for just three of those interceptions.
Carolina must replace Captain Munnerlyn, who spent five seasons with the team and set a franchise record with five interceptions returned for a touchdown before signing with the Minnesota Vikings. But the Panthers, despite the modest interception numbers posted last season by their returners, still feature a group of ballhawks and playmakers.
In 2011, the first season for secondary coach/passing defense coordinator Steve Wilks, Carolina ranked 24th in the NFL in pass defense. The Panthers jumped to 13th in 2012 and improved to sixth last year.
Melvin White
Undrafted rookie played in 15 games with 10 starts last season, recording 45 tackles, two interceptions and one forced fumble. … Made one of the biggest plays of the year, picking off a Matt Ryan pass and stumbling eight yards for a touchdown that ignited the Panthers in their division-clinching victory at Atlanta in Week 17. … Had an interception and forced fumble in second career game.
Charles Godfrey
Converting to corner after playing safety for the Panthers first six seasons. … Following three consecutive seasons at strong safety, moved to free safety last year but suffered a season-ending Achilles injury in Week 2. … Has 11 career interceptions and 26 passes defensed.
Josh Thomas
Started five of the first six games last season, missing one game because of injury, but then started just one of the final 10 games. … Recorded first career interception in that start, picking off Miami Dolphins quarterback Ryan Tannehill after getting the start when the Panthers opened in a nickel defense.
James Bradberry
Played a reserve role in seven games last season after starting the first 12 games of his pro career as a rookie in 2012. … Led the NFL with four interceptions in the 2013 preseason, two more than anyone else. … Didn't record any interceptions in the regular season.
James Dockery
Injury-riddled season started with Dockery missing the first three games with a broken thumb and then spending the last seven games on injured reserve with a torn labrum. … Started two of final three games in 2012.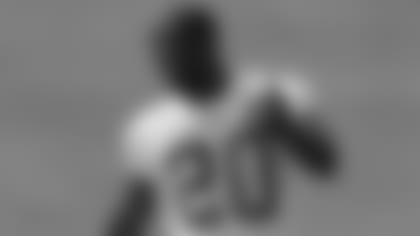 Antoine Cason
Had as many interceptions as any Panthers cornerback - two – in 2013 despite not starting a game for the first time in his six-year NFL career. … Played in every game last season for Arizona, his only year with the Cardinals after playing in every game over his first five pro seasons with San Diego. … Looks to return to starting role and build on 14 career interceptions and 58 career passes defensed.
De'Quan Menzie
Fifth-round draft pick by the Kansas City Chiefs out of Alabama in 2012 spent his rookie season on injured reserve and spent training camp with Detroit last year before being waived. … Starter on Crimson Tide's 2011 national title team, tying for team lead with 12 passes defensed.
Bene Benwikere
The Panthers' fifth-round draft choice left San Jose State as the school's record holder with 14 interceptions. … Intercepted a pass in four consecutive games last season to earn a spot on the All-Western Athletic Conference first team for the second consecutive year. … Recorded 214 tackles while playing in 47 games with 30 starts.
Carrington Byndom
Speedy undrafted rookie free agent amassed 189 tackles and five interceptions in 51 games with 39 starts at Texas. … Returned one interception for a touchdown as a sophomore and another one as a junior. … Second-team All-Big 12 selection as a senior.