A year ago, Ron Edwards was brought to Carolina to make an instant impact at the defensive tackle position.
Almost instantly, he ended up on injured reserve. Edwards tore his right triceps during his first training camp practice.
The aspirations for Edwards haven't changed as he enters his second season with the Panthers. The 6-foot-3, 315-pound tackle will again be counted on to play a big role along the defensive line. 
Additionally, Terrell McClain and Sione Fua will look to further prove themselves after injury-shortened rookie campaigns as the Panthers work toward interior line stability.
Ron Edwards
Spent 2011 -- his first season with Carolina -- on injured reserve after suffering a torn right triceps during training camp. ... The former Kansas City Chief and Buffalo Bill has compiled 15 career sacks and 192 tackles. ... 12-year veteran started his career in 2001 with Buffalo as a third-round draft choice.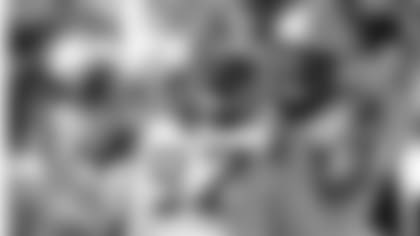 Terrell McClain**
Started 12 games at defensive tackle as a rookie last year. ... First NFL season was cut short by a late-season knee injury. ... The third-round pick was a first-team All-Big East selection after a stellar senior year at South Florida.
Sione Fua
Started 11 games at nose tackle as a rookie in 2011, but season was cut short by a hamstring injury. ... Selected in the third round out of Stanford, where he produced 80 tackles, 16 tackles for loss and nine sacks. ... Was a second-team All-Pac-10 choice as a senior.
Andre Neblett
Suspended for the first four games of the 2012 regular season for violating the NFL policy for performance enhancing substances. ... Played in 12 games with four starts last season. ... Posted 21 tackles, 2.5 sacks and two fumble recoveries. ... Signed as an undrafted rookie free agent by Carolina in 2010 – the only undrafted rookie free agent to make the opening day roster that year.
Frank Kearse
Played in six games with four starts as a rookie nose tackle for Carolina in 2011. ... Originally a seventh-round draft choice of the Dolphins. ... Finished college career at Alabama A&M with 129 tackles, 32 tackles for loss, six sacks and six quarterback pressures.
Ogemdi Nwagbuo
Appeared in eight total games as a member of the Panthers and Chargers in 2011. ... Spent first two years in San Diego before signing with Carolina late last season. ... Played final two collegiate seasons at Michigan State after attending Southwestern College for three years.
---
Nate Chandler
Signed as an undrafted free agent out of UCLA. ... Played in 49 games with 15 starts and produced 37 tackles, 3.5 tackles for loss, two sacks, one quarterback pressure, one fumble recovery and two passes defensed. ... Started at offensive line and tight end before making switch to defensive line.
---