One of the Panthers' biggest strengths on defense appears to have gotten stronger still this offseason.
With already arguably the best duo of linebackers in the league, Carolina invested its first-round draft choice on an intriguing linebacker. Throughout training camp and the preseason, it will be interesting to see how often the Panthers feature a third linebacker after often going with just their top two in 2014.
Luke Kuechly
Has led the NFL in tackles in two of his first three seasons. The one year he didn't pace the league, in 2013, he was named NFL Defensive Player of the Year. … Ranks first in the NFL with 473 tackles based on press box statistics (547 based on coaches' film review) since Panthers picked him ninth overall in 2012. … Aimed to improve in pass coverage and as a blitzer in 2014. Responded with 12 passes defensed and three sacks after totaling 15 passes defensed and three sacks in first two seasons.
Thomas Davis
Reigning Walter Payton NFL Man of the Year. … Since returning from third major injury to his right knee in 2013, has averaged 132 tackles per season. … If he reaches that average this season, he'll become the Panthers' all-time leading tackler. Davis has 831; Mike Minter had 953 from 1997-2006.
A.J. Klein
Fifth-round draft pick in 2013 took over for Chase Blackburn in 2014 as the Panthers' starting strongside linebacker before missing the final two regular season games and both playoff games with an ankle injury. … Ranked sixth on team with 44 tackles and second in special teams tackles with eight.
Adarius Glanton
Undrafted rookie in 2014 filled in admirably for Klein late last season, highlighted by a forced fumble in the regular season finale at Atlanta that led to a touchdown in a victory that clinched the NFC South title. … Recorded 10 tackles on defense and three on special teams.
Ben Jacobs
Led the Panthers with nine special teams tackles in 2014, when he played in every game – primarily on special teams. … Originally joined Carolina in 2013 after impressing coaches as an invited tryout.
Kevin Reddick
Undrafted out of North Carolina in 2013, joined Panthers' practice squad after Week 9 in 2014 and added to 53-man roster before Week 15. … Recovered a fumbled kickoff to set up a touchdown in NFC Wild Card victory over Arizona.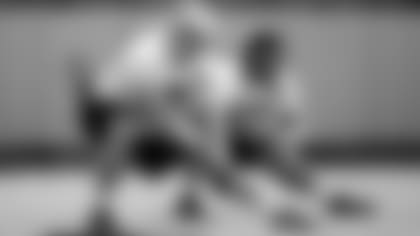 Shaq Thompson
Selected by Carolina with the 25th overall choice in the 2015 NFL Draft. … A dynamic playmaker who lined up at linebacker, safety, running back and cornerback at the University of Washington. … Scored six touchdowns in 2014 – four on defense and two on offense – to win Paul Hornung Award as college football's most versatile player. … Panthers plan to showcase that versatility as a linebacker in various roles.
David Mayo
Panthers used fifth-round pick on the nation's second-leading tackler, a Texas State standout who was Sun Belt Conference Defensive Player of the Year in 2014. … His 154 tackles tied a conference record. … Also showed a nose for the ball with three forced fumbles in 2014 and four interceptions in 2013. … Played freshman season at Santa Monica College.
Brian Blechen
Productive four-year starter signed as an undrafted free agent from Utah. … Honorable mention all-conference all four years while starting 48 games. … Finished career with 264 tackles, nine interceptions and seven forced fumbles.
Jason Trusnik
Veteran of eight NFL seasons signed as an unrestricted free agent with Panthers after playing in every game the last four seasons for the Miami Dolphins. … Twice led the Dolphins in special teams tackles and has 68 for his career. … Can play all three linebacker positions.