With all the success enjoyed by the Panthers' passing game in 2011, it's easy to forget what the running game accomplished.
The Panthers led the NFL with 5.4 yards per carry and produced a franchise record 14 games with 100-plus rushing yards.
The large majority of the offensive line that opened up holes for the running game and shut down pass rushers is back.
Starters Ryan Kalil, Jordan Gross, Geoff Hangartner and Byron Bell all return. Starter Jeff Otah is working toward returning from injury, and the Panthers invested a second-round draft pick in raw but relentless guard Amini Silatolu.
Factor in a couple of offseason pick-ups from other teams, and the unit appears poised for another big year in 2012.
RETURNERSJordan Gross
The two-time Pro Bowler is preparing for his 10th NFL season, all spent as the Panthers' starter at left tackle. … Has only missed nine games over nine seasons, seven of them coming when he suffered a broken leg midway through the 2009 season. … The first-round draft pick out of Utah played in the Super Bowl as a rookie following the 2003 season.
Ryan Kalil
Coming off his third consecutive Pro Bowl, his first as starting center for the NFC. … Considered to be on the small side but more than makes up for it with quickness, strength and technique. … Has started 54 consecutive games. … Younger brother, Matt, was picked fourth overall by the Minnesota Vikings in the 2012 draft.
Geoff Hangartner
Signed as a free agent last September, two days after the Buffalo Bills released him, and immediately established himself as the starter at a right guard spot devastated by injuries. … Began his pro career as a Panther, a fifth-round draft pick in 2005 who started 27 games over four seasons.
Byron Bell
Went from undrafted rookie to starting right tackle against the reigning Super Bowl champion Green Bay Packers in the course of six weeks. … Signed with the Panthers after the NFL work stoppage concluded, earned a roster spot, and started in Week 2. … Started 12 games as a rookie.
Jeff Otah
Started four of the first six games of 2011 at right tackle before being placed on injured reserve with a left knee injury. … Same injury sidelined him for all of 2010 and last three games of 2009 and slowed him during Organized Team Activities last month. … Before the injury, a dominant presence after being drafted in the first round in 2008.
Garry Williams
Was in line to start at right guard last season before suffering a broken left ankle in the preseason finale. … Had previously played tackle and is expected to return to that role and provide depth this season. … Started final 11 games of 2010 season at right tackle and helped Panthers rush for more than 100 yards in eight of last nine games.
Lee Ziemba
Panthers' seventh-round draft pick in 2011 was key blocker at left tackle for Cam Newton during Auburn's title run in 2010. … Played in six games as a rookie, almost entirely on special teams.
Bryant Browning
Played one series at right guard as a rookie in 2011 and spent 11 games on the Panthers' practice squad. … Undrafted out of Ohio State, where he started 40 games, but signed with the St. Louis Rams before being waived during training camp and signing with Panthers the next day.
Jeff Byers
Joined active roster off practice squad late in season when Browning went on injured reserve with a wrist injury. … Expected to compete at center for backup role behind fellow Southern Cal product Ryan Kalil.
Roger Allen
Spent final five games of last season on Panthers' practice squad after waived by New Orleans Saints. … Undrafted in 2009 but signed by the St. Louis Rams and started one game at left guard.
---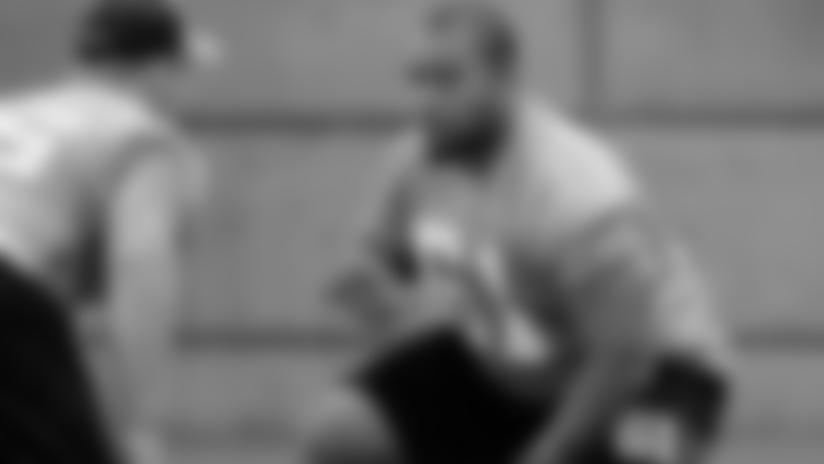 Amini Silatolu
Second-round draft pick out of Midwestern State dominated on the Division II level the past two seasons, delivering 182 knockdown blocks and 43 blocks that sprang touchdowns. … Played left tackle in college but is a leading candidate to start at left guard for the Panthers.
Will Blackwell
Undrafted out of LSU, where he was a second-team All-American guard as a senior. … Helped the Tigers set a school record last season with 35 rushing touchdowns.
Matt Reynolds
Decorated left tackle tied Brigham Young record with 52 career starts. … Undrafted to the surprise of many.
---
Mike Pollak
Signed as an unrestricted free agent by the Panthers after spending first four seasons with Indianapolis. … A second-round pick in 2008, started 41 games for the Colts, primarily at right guard. … Also has experience at left guard and center.
Bruce Campbell
Acquired in an offseason trade from the Oakland Raiders. … A fourth-round draft pick in 2010, played sparingly at guard for the Raiders, but the Panthers have moved him to tackle, where he thrived at the University of Maryland.