The wide receiver situation has been a hot topic for debate among Panthers fans in recent seasons.
That will also be the case among the Panthers' coaching staff come training camp.
The final roster spots for receivers have been hotly contested in recent years, and the same scenario should play out this year.
"Guys understand that they have to step up if they are going to make the team," offensive coordinator Mike Shula said. "It's just a numbers game."
It remains to be seen who will step forward, but first-year wide receivers coach Ricky Proehl believes the group as a whole is heading in the right direction.
"The wide receivers continued to progress throughout our OTAs and minicamp," Proehl said. "I am very pleased with our veterans and the development of our young players going into training camp."
Steve Smith
Panthers' all-time leading receiver amassed 73 receptions for 1,174 yards last season and added four touchdowns. … Topped 100 yards receiving in five games on his way to becoming 27th player in NFL history to reach the 11,000-yard mark. … Has caught at least one pass in 91 consecutive games. … First in franchise history with 71 total touchdowns and with 772 receptions for 11,452 yards.
Brandon LaFell
Started 12 games after starting eight over first two NFL seasons and established new career highs with 44 catches, 677 yards and four touchdowns. … Came off the bench in two other games and missed two games because of injury. … Had 13 catches covering 20 or more yards in 2012. … Ranks first in franchise history with a career average of 14.9 yards per reception.
Armanti Edwards
Got first significant opportunity of three-year NFL career in 2012 and responded with five receptions for 121 yards. … Paced team with 12 kickoff returns, averaging 21.7 yards. … Had an 82-yard reception and a 69-yard punt return, though neither went for a touchdown. … Lone pass attempt was incomplete.
David Gettis
Began season on physically unable to perform list with a hamstring injury before seeing limited action in two games. … Missed entire 2011 season with torn anterior cruciate ligament suffered in training camp. … Trying to recapture form of rookie season in 2010, when he caught 37 passes for 508 yards and three touchdowns.
Kealoha Pilares
Paced team in kickoff return average for second consecutive season but missed second half of 2012 with a shoulder injury suffered on a kickoff return. … The 2011 fifth-round draft pick recorded first two catches of career in 2012 and scored first touchdown, on a 36-yard catch and run at Atlanta.
Joe Adams
Began rookie year as primary return man but lost the job when he struggled with fumbles early in season. … Earned second chance late in season and ended up leading the team with 11.5 yards per punt return. … Caught a pass for 7 yards and ran the ball once for 5 yards.
Lamont Bryant
College tight end spent rookie season on Panthers' practice squad. … The 6-5, 225-pound snared a 79-yard touchdown reception in a preseason game at the New York Jets.
Brenton Bersin
Attended training camp at Wofford, his alma mater, last season before being waived. … Caught 77 passes for 1,567 yards and 15 touchdowns for the Terriers.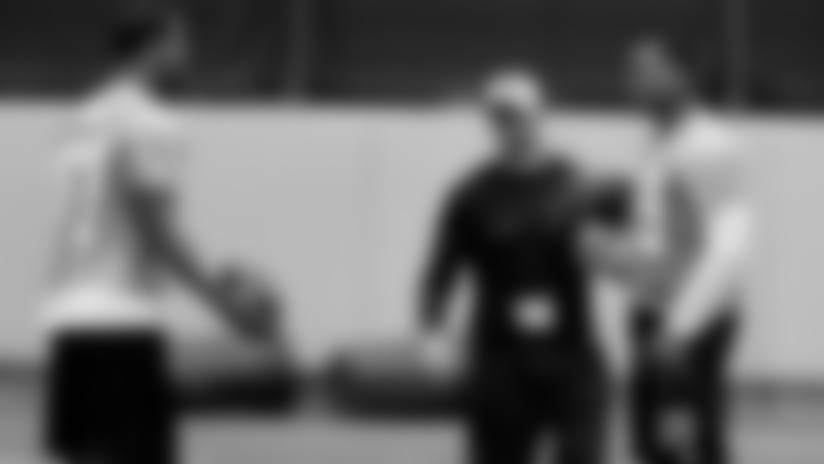 Ted Ginn
Former top-10 overall pick signed with Panthers following three seasons with San Francisco 49ers and three with Miami Dolphins. … Has three kickoff returns for touchdowns and three punt returns for touchdowns, including one each in the same game in 2011. … Has 161 receptions for 2,048 yards. … Has lost just two of his 15 career fumbles.
Domenik Hixon
Signed with Panthers this offseason following second career 500-yard receiving season, snagging 39 passes for 567 yards and two touchdowns for New York Giants. … A fourth-round pick by Denver Broncos in 2006 but has played 57 of 61 career games for Giants. … Missed 2006 and 2010 seasons with injuries.
Dale Moss
Split rookie year in 2012 between practice squads in Chicago and Tampa Bay. … Played just one season of college football, amassing 61 catches for 949 yards and six touchdowns at South Dakota State.
Taulib Ikharo
Over four-year college career split between Louisiana Tech and Laney College, caught 164 passes for 1,838 yards and 16 touchdowns. … Was not in the NFL as a rookie in 2012.
James Shaw
Over three seasons as receiver at Jacksonville State, caught 69 passes for 815 yards and eight touchdowns. … Played in secondary as a freshman. … Was not in the NFL as a rookie in 2012.