CHARLOTTE – After the St. Louis Rams won Super Bowl XXXIV, Ricky Proehl sat down with NFL Films to look back on his well-traveled career.
The Rams wide receiver had just wrapped up his 10th professional season and he discussed his desire to continue playing.
"When I first got in the league, I remember (thinking) if I could just play five years – five sounds good. Then as you get to five, 10 sounds good…. If I could just get to 15," Proehl laughed.
Proehl made it to 17. Three of those seasons were in Carolina from 2003-2005 before his final year in Indianapolis.
Since retiring, he's owned and operated Proehlific Park, a family sports complex and fitness center in Greensboro, N.C.
"Sometimes I think, man, I should have gone for 20," Proehl joked from his office at Bank of America Stadium – with less hair but the same laugh.
And technically, 2013 will be Proehl's 20th NFL season. It'll be his third as an NFL coach.
Last year, he served as an assistant to then-wide receivers coach Fred Graves after joining the organization as an offensive consultant in 2011.
This offseason, head coach Ron Rivera promoted Proehl, and the wide receivers position is now in Proehl's hands.
"I'm excited because now I can be more hands on," Proehl said. "I feel like I can make a difference."
---
What Proehl doesn't have in terms of coaching years, he makes up for in playing experience.
His 17 seasons included stints with six different teams. He played in four Super Bowls and won two. He was on teams that enjoyed tremendous success and he was on teams stuck on the opposite end of the spectrum.
"Over 17 years, you play for a lot of coaches and you play with a lot of players. You experience a lot of things – good and bad," Proehl said. "I've learned so many things from great players and great coaches, and that's what I can teach these guys."
There's a lot the Panthers wideouts can learn from him.
Proehl, who played at 6-foot, 190 pounds, was a third-round draft pick by the Phoenix Cardinals. He wasn't blessed with elite size or speed, so he made his living by mastering other areas of the game and demonstrating his dependability in critical moments.
"I wasn't 6-foot-4, 220-pounds running a 4.3 40 (yard dash)," Proehl said. "I had to be a good route runner. I had to be smart and know where the holes were in the coverages, if it was man or zone. I learned all of the (wide receiver) positions. I worked hard at it.
"And I went through tough times early in my career where we didn't win more than eight games. Then I end up going to four Super Bowls. I know what it takes to win. It's setting a standard that starts in practice. That's what we're going to do."
Setting that standard is the newest challenge awaiting Proehl.
---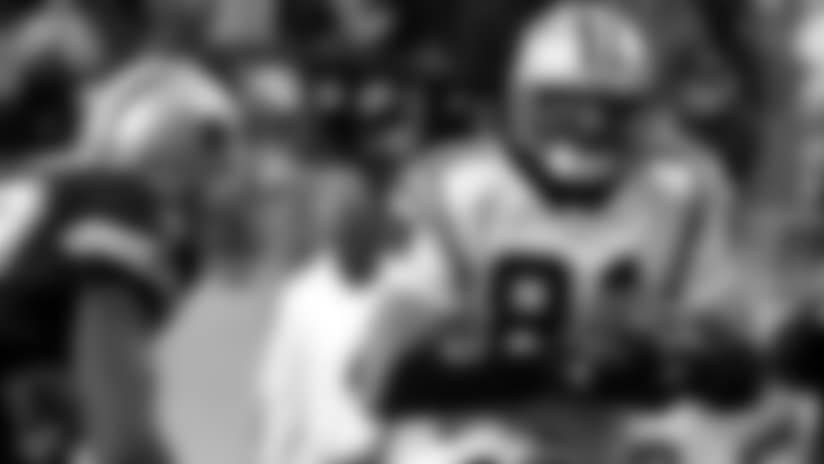 Can Proehl successfully go from friend and peer to teacher and disciplinarian?
"I think that's the biggest question mark former players have coming in as coaches," Proehl said. "How are you going to set that standard?"
It's not just that Proehl is a former NFL player – many coaches are. It's that he's young enough at 44 years old to have played alongside several players currently on NFL rosters, like wide receiver Steve Smith and left tackle Jordan Gross, who were Proehl's offensive teammates during his playing days in Carolina.
Now he's coaching Smith and a host of young receivers looking to establish themselves in the early stages of their careers.
"The concern from coaches is you can't be their friend," Proehl said. "It's a respect thing from both parties. You earn respect and you earn their trust. They have to know that you are there to help them get better and that it's going to come through hard work. I'm excited to instill that in our receivers from day one.
"I've built that player-coach relationship over the last two years. There is that respect factor. They know I've done it. I think that's huge."
Unselfishness will be reiterated in Proehl's meeting room. That much is clear when he discusses the great receiving corps he was a part of.
"I remember when I was on the teams that were just average and how we did things to when I was on great teams and how we did things," Proehl said. "It's from as simple as blocking down the field. To get big plays, receivers have to be blocking downfield."
It's a principle Proehl and the high-powered "Greatest Show on Turf" embraced in St. Louis.
"That was instilled in our receiving corps in St. Louis, and it was amazing the transformation. It was tough at first because it's a mindset a lot of receivers aren't used to, but it became an attitude and it became a habit," Proehl said. "It's about being unselfish. We have to create that environment.
"The beauty of that (Rams) team was we didn't care who scored, we just wanted to win and score points."
That's the approach Proehl wants to instill among the receivers in Carolina.
"It's not always about you getting open. It may be about clearing a zone or occupying a guy to open it up for someone else," Proehl said. "And that's what I think we have to learn as receivers."