CHARLOTTE – Through two preseason games, little separates Panthers punting candidates Nick Harris and Brad Nortman.
In some ways, the 12-year veteran and the rookie could compete against each other in 100 games and not settle their differences.
"We're two different guys," said Harris, who is competing against the first punter ever drafted by the Panthers. "Brad can really kick the ball down the field, whereas I'm more about hitting spots near the sideline. He has a huge, huge leg, while over the course of my career I've learned to put the ball where they want it to go.
"The team just has to decide what they want to do. I'm not trying to match what he's doing and he's not trying to match what I'm doing."
Yet, come game time, they have virtually matched each other, aside from a couple of kicks that have accentuated their different styles.
Harris and Nortman have taken turns, with each getting five punts so far. The first two attempts for both punters in the preseason opener against the Houston Texans were on parts of the field where they could air it out, and both punters responded with a pair of 50-plus yarders, highlighted by a 57-yarder for Nortman.
Each punter then got a chance about 40 yards from the end zone. Harris forced a fair catch at the 8-yard line, while Nortman sailed his into the end zone for a touchback.
Then on Friday against the Miami Dolphins, Nortman twice punted from the Panthers 46-yard line, sending one 54 yards into the end zone and another one 42 yards down to the 12 with a 2-yard return.
Harris had a pair of 39-yarders – one that forced a fair catch at the 11 but one late in the game that set Miami up near midfield.
"Both punters had a good night, so we're going to continue to work and hopefully somebody will pull ahead soon," Panthers head coach Ron Rivera said following the Dolphins game. "Otherwise, we'll just keep going."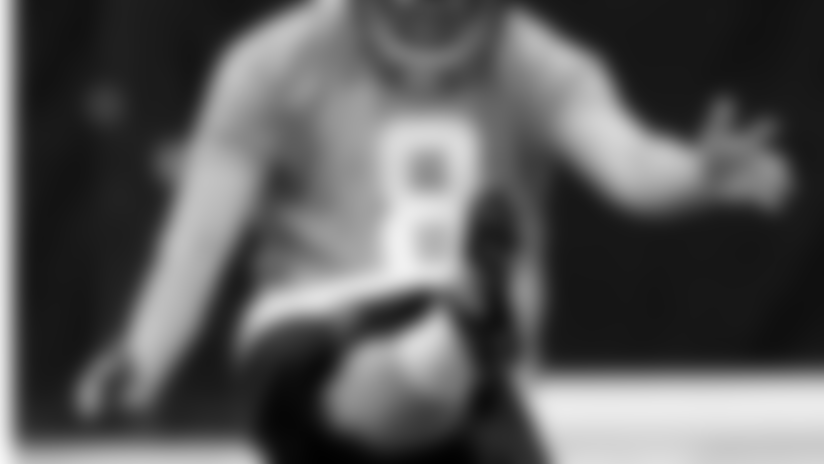 Harris has been in Nortman's shoes before, albeit quite a few years ago. While Harris was a fourth-round pick of the Denver Broncos in 2001 – the only punter drafted that year – Nortman was one of just two punters drafted in April.
The other punter drafted this year was third-rounder Bryan Anger from Cal, the same school that produced Harris. Anger was picked by the Jacksonville Jaguars, prompting the Jaguars to release Harris.
It wasn't the first time Harris had been out of work. As a rookie, in fact, he lost out to Broncos veteran Tom Rouen in final cuts but was signed by the Cincinnati Bengals the next day and served as their punter for the next two seasons.
"When I was a rookie, people weren't nice. It wasn't fun," Harris said. "I'm trying to be a friend, an older mentor to help Brad out and be encouraging and not be a jerk about it. He's a great kid and an awesome punter."
Nortman, out of Wisconsin, is enjoying the competition and the camaraderie.
"It's been great," Nortman said. "He's a great punter who has had a lot of success in the league for a long time. I've been able to take some things from what he does to try to make my own game better."
At the end of the day, the Panthers will have to decide which punter best fits their needs. If the team does happen to go with Harris, he believes that Nortman would still land on his feet much like he did more than a decade ago – and vice versa.
"As a draft pick, if you're released, somebody is always paying attention to that. The draft really does something for you," Harris said. "He definitely has a seat at the table. He can play.
"The best guy is going to get the spot, and I feel like we'll both be playing in the NFL this year – one place or another."