CHARLOTTE – Just when it looked like quarterback Joe Webb wouldn't be taking any snaps in the Panthers' third preseason game, all of a sudden he was.
When the two-minute warning hit with Carolina on the verge of being shut out for just the third time ever in a preseason game, a hit that concussed quarterback Matt Blanchard and landed him on injured reserve thrust Webb into action.
Three completions, 64 passing yards and 42 seconds later, Webb was celebrating a touchdown.
"In this business, you've always got to be ready," Webb said at his locker after the game. "You never know when your number is going to be called."
That sentiment applies even more so this week, with starter Cam Newton (ribs) out for Thursday's preseason finale at the Pittsburgh Steelers and with Derek Anderson on the cusp of becoming a father.
Anderson's wife, who was due to deliver the couple's first child three days ago, planned to check into a Charlotte area hospital Tuesday at 7 p.m., making it likely but far from certain that Anderson will play against the Steelers.
"Whatever I have to do, if that's coming out on Thursday morning or whatever, we'll make it work," Anderson said. "We're going to go in at seven o'clock tonight, and hopefully the kid comes out soon, and then we're going to roll."
Whatever happens before Thursday's game, Webb will be ready. And whatever happens during and after the game, the Panthers are planning for Webb to be on the 53-man roster that will be announced Saturday along with Anderson and Newton.
"This is an out-of-necessity move, but at the same time Joe had earned that consideration from the beginning," head coach Ron Rivera said. "It's a tough position to be in because we're going to have to let a good player go to keep an extra quarterback, but because of our situation we need to."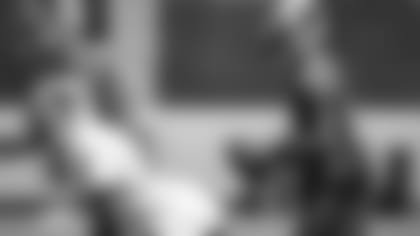 Based on his level of preseason play, Webb may well have made the cut regardless. He has completed 21-of-35 passes for 271 yards and two touchdowns with one interception, in addition to rushing for 30 yards.
The last time Webb was pressed into action, it was even more of a challenge. After recording only a kneel-down during the 2012 season with the Minnesota Vikings, Webb suddenly found himself starting in the NFC Wild Card – a 24-10 loss at Green Bay – when a nagging injury to starter Christian Ponder's throwing elbow worsened.
Webb switched to wide receiver for the 2013 season, but he moved back to quarterback when the Panthers signed him as an unrestricted free agent in March after Newton had ankle surgery.
"I was excited about bringing Joe Webb in for a couple of reasons," Rivera said. "I called some of his former coaches, and they felt that what we do would be a good fit for his skill set. People thought that a lot of the things we do with Cam would suit his abilities, and I think they're right.
"I like who Joe is. He's a very hard-working, conscientious young man who wants to do well. He's a good person."
Though it's possible Webb could take all the snaps in Thursday's preseason finale, he likely won't take any in the regular season opener with both Newton and Anderson expected to be ready.
"Cam is a strong fella, a strong soldier," Webb said. "I'm sure he and the training room staff are going all they can to get him back to 100 percent. I'm sure he'll be back on the field any day now."
If that day doesn't come as quickly, the Panthers know that Webb will be ready at a moment's notice.
"You usually see guys at other positions going down but not the quarterback positon," Webb said. "It's definitely been different, but we've just tried to stay focused.
"I pretty much go into every week the same, preparing as if I'm the starter."