As a 23-year-old rookie getting his first rushing attempts at Carolina in the last three weeks, Blackshear still has plenty to learn. He asks many questions and brings an energetic presence to the Panthers' running back room.
And the 26-year-old Foreman is there to help Blackshear focus all of that youthful energy.
"When he gets in the offense, it's just like, 'Be calm,'" Foreman said. "The thing about him is that if something doesn't go his way or doesn't go right, he's always like, 'Bro, what did I do wrong?' And I'm like, 'Oh, nothing, bro. That's a part of the game. … It's kind of just trying to keep him upbeat and focused."
Blackshear scored his first touchdown as a Panther in Cincinnati last week, totaling 53 scrimmage yards (40 receiving, 13 rushing). Though the game's result (a 42-21 loss to the Bengals) wasn't ideal or in doubt at the time, Blackshear was grateful he found the end zone for the first time in his professional career. He also popped a 66-yard kickoff return, showing he's capable of making plays on special teams as well.
"I knew I was capable of doing it and just had to wait my time," Blackshear said. "Sometimes, being a young guy, you've got to wait, but I scored in the preseason. … It was nice doing it for the first time as a Panther. It was a blessing."
Blackshear's journey to Carolina wasn't a straight path, as he went through the preseason with the Bills as an undrafted rookie out of Virginia Tech. He did score two touchdowns with Buffalo in the preseason, but he didn't make the 53-man roster and landed on the Bills' practice squad to start the season.
Blackshear found his opportunity on an active roster when Carolina signed him from Buffalo's practice squad in late September. He was already making plays as a kickoff returner when he made his Panthers debut in Week 5 against the 49ers. He took seven returns for 200 yards, including a 45-yarder to start the second half.
Blackshear's first carries resulted in negative yardage against Tampa Bay, and he accumulated just 1 net yard in Atlanta.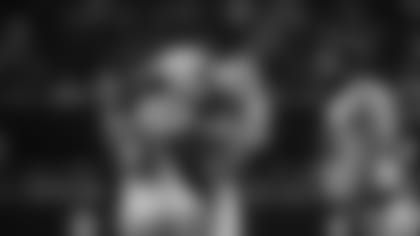 But when Blackshear began to string plays together against the Bengals, Foreman knew the words he told him before every game had started to ring true. 
"Just be patient, knowing that your time is going to come, and when the time does come, you've got to capitalize on the opportunity," Foreman said. "I tell him that pretty much before every game. Just focus. Don't let the moment be too big for you. I would tell him, 'Bro, you deserve to be here.'"
Foreman said Blackshear was more of a "quiet guy" when he first got to Carolina, but they've grown into good friends who tease each other on the sideline and keep it lighthearted. When Foreman was first asked about his relationship with Blackshear, he immediately broke out into a grin. 
"I feel like now he's like a little brother to me," Foreman said. "We make a lot of jokes. I'm always messing with him. But I try to congratulate him when he does good stuff, and I try to motivate him just to continue to go hard and keep pressing."
Foreman said he wanted to take on a mentorship role with Blackshear because his career has had its share of ups and downs. He averaged 32.7 yards per game in 10 games as a rookie with the Texans in 2017. But Foreman dealt with injuries before landing in Tennessee, where he eventually broke through as a backup to Derrick Henry. Last season, Foreman totaled 566 yards on 133 carries with as an injury replacement, and this year with the Panthers, he had back-to-back 118-yard rushing games against the Buccaners and Falcons.
"I find it very impactful, having a guy in the room who has been around," Blackshear said. "He's teaching you; every day, you learn something new. It's just been very impactful on my career, just getting started.
Foreman said he's excited to watch Blackshear reach his "ceiling" because he knows how much he cares, and Foreman believes in what Blackshear is capable of becoming.
"He's a guy who wants to play well; he wants to make plays, and he wants to be out there, so anything I can do to help," Foreman said. "I just think that because of the things I went through early in my career, just with the ups and downs and everything, I think I'm a great person to be able to talk to him and just lead him in the right direction."
Check out the best photos from Tuesday's practice as the Panthers wore the new black helmets in anticipation of their debut on Thursday Night Football.