CHARLOTTE – The Oakland Raiders aren't just the next opponent on the schedule for head coach Ron Rivera.
When the silver and black franchise is mentioned, Rivera's face lights up. The northern California native clearly had a connection with Raiders.
"I grew up a Raider fan back in the day," Rivera said. "I never really had one true team I really cheered for, but they were probably the closest thing to it."
Rivera idolized Raiders quarterback Jim Plunkett and rooted for them while his younger brother cheered for the Steelers, the other dominant team of that era.
When Rivera was in high school, he was fortunate enough to get an autograph from then-Raiders head coach John Madden, who has become a trusted mentor for Rivera.
"I got to meet Coach Madden when I was sixteen years old," Rivera recalled. "He was out on vacation in Monterey. Being the sports fan that I was, I recognized him right away. It was a really cool thing."
Rivera also has connections to current Raiders head coach Jack Del Rio, another Northern California product.
"I have a lot of respect and appreciation for Ron Rivera," Del Rio said in a conference call. "I've known Ron a long time."
Rivera is a year older than Del Rio, but they knew about each other during their decorated high school football careers.
"Jack was the only junior on the All-Northern California football team," Rivera said. "Everybody knew who Jack was."
"Ron was a heck of a player," Del Rio said. "We were two outside linebackers kind of in the same era. I read his name in the paper a lot, and I know he probably did the same."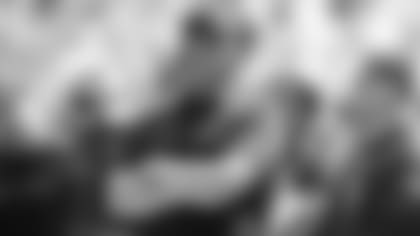 Rivera, who went to Cal, and Del Rio, who went to Southern Cal, squared off in college with the Trojans maintaining the upper hand. On Sunday, they'll face one another as NFL head coaches for the second time. The Panthers edged Del Rio's Jaguars in 2011, Rivera's first season in Carolina.
Del Rio is now in his second season leading the Raiders, who are currently tops in the AFC with an 8-2 record.
"I'm really happy for Jack. I've always said if there was a guy who could do a good job there, it would be him," Rivera said. "He understands what it's all about."
The Rivera family understands it, too.
"The thing I'm concerned about is probably two-thirds of my mom's family is coming to the game and probably two-thirds of them are going to be dressed in Raiders gear," Rivera said. "I'm not kidding; I'm serious."
Many of the Panthers have never played in Oakland, so Rivera intends to explain to them what kind of atmosphere to expect.
"It's a neat spot to be," Rivera said. "They're going to see it firsthand."
And they know their head coach doesn't want to leave the Oakland Coliseum without a win.
View photos of the Panthers practice leading up to their game against the Raiders.