SPARTANBURG, S.C. – After their best practice of training camp on Tuesday, the Panthers had the day off Wednesday before returning to rainy conditions for Thursday morning's practice.
"These are the conditions we are going to play in, so we have to practice in it as well," head coach Ron Rivera said.
As wide receivers coach Ricky Proehl said to his group at the start of practice: "Everybody can catch when it's sunny and dry out. Let's see it."
Rivera was hopeful the day off combined with the rain wouldn't hinder his team's progress after such a strong showing. When the sixth practice of camp concluded, he seemed pleased.
"I would have loved to have been able to have back-to-back practices after that last one," Rivera said. "That was one of the best practices I've been involved with since I've been here. I would have loved to see if we could have maintained that.
"As it was, we practiced pretty doggone well considering the conditions today. I thought they handled it very well."
Rivera was worried about injuries on the slick surface, but the only one to note was a minor one for quarterback Cam Newton, who was kicked in the left shin.
"They cut the tape off just to be sure and they put a shin guard on," Rivera said. "Cam was off a bit early. But once he got into his rhythm, he practiced very well down the stretch."
After some red zone struggles, the offense clicked during the two-minute drill, and several receivers made plays. Jerricho Cotchery (short middle), Kealoha Pilares (deep) and Marvin McNutt (15-yard back-shoulder) were all on the receiving end of touchdown passes from Newton.
Arguably the most consistent target of the day was Tavarres King, who was mostly sure-handed despite the conditions.
"Tavarres has had three good days in a row," Rivera said. "We're pretty excited about what he's doing."
The defense has been ahead of the offense for most of training camp, something that's typical this time of year. And with so many returning starters and veterans, the Panthers defense in particular is way ahead of schedule.
"(Defensive coordinator) Sean (McDermott) talked about it yesterday in one of the coaches meetings – 75 percent of the playbook is in," Rivera said. "We aren't even through a full week yet. That's a huge plus for us. They can really start to refine."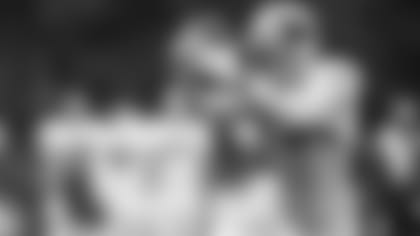 HEALTH UPDATES: Rivera said rookie wide receiver Kelvin Benjamin (knee) is progressing "very nicely." Safety Thomas DeCoud has a bone bruise similar to the one Benjamin suffered, and he remains out.
Cornerback Josh Norman is still sidelined with a hamstring injury, and Rivera hopes to get him back soon.
"He's a guy that relies on his legs," Rivera said. "Hopefully, we can get him back before the first preseason game."
NEXT UP: Due to weather conditions, the time of the Panthers' training camp practice Friday is to be determined. A decision will be made Friday morning.