CHARLOTTE – Running back Jonathan Stewart is on pace to play for the first time in nearly a month, but another explosive offensive weapon and a key run blocker could be in danger of not playing.
Stewart practiced fully Wednesday for the first time since suffering a knee injury in Week 3 against Pittsburgh and said following practice that he expects to play when the Panthers visit the Green Bay Packers on Sunday.
But head coach Ron Rivera said he doesn't yet know if wide receiver Kelvin Benjamin will be able to play after suffering a concussion last week at Cincinnati. Rivera also doesn't expect left guard Amini Silatolu to play based on the current condition of a calf injury that forced him to miss most of the Bengals game.
"Kelvin came in on Monday and had a little bit of a headache. They looked at him and they said he has a mild concussion," Rivera said. "They put him in the protocol, and we are going to go from there.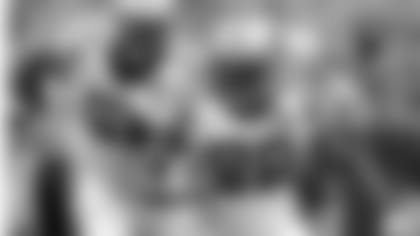 "Amini is pretty good. We'll see. Each day is different, especially with a calf, but I will say it looks a lot better than we thought it would."
Stewart is certainly looking better and could provide an immediate boost for a running game that has not had him, DeAngelo Williams or Mike Tolbert for each of the last two games.
"Jonathan looked good. He had a good day," Rivera said. "We'll see how he is tomorrow. He took the majority of the reps, all the reps he was slated to take.
"I was excited to see him on the football field, and hopefully there are no residuals tomorrow and he'll be ready to roll for practice."
If Benjamin, the NFL Offensive Rookie of the Month for September, can't play, the Panthers will turn to Brenton Bersin and Philly Brown. Bersin has caught at least one pass in all five games with Cam Newton under center, while Brown showed what he could do with an extended opportunity when he started in place of an injured Jerricho Cotchery in Week 3 and caught seven passes for 66 yards.
In addition, quarterback Joe Webb, who hasn't been active since Week 1, took some snaps at receiver Wednesday. Also, wide receiver De'Andre Presley (leg) – on the physically unable to perform list since training camp - practiced for the first time and can do so for up to three weeks while the team decides whether to activate him.
"We feel good about the guys that are playing," Rivera said. "I think we are going to be OK whether he (Benjamin) is out there or not."
Rivera also has confidence in the Panthers' plan if Silatolu is out. When he went down during the Bengals game, veteran Fernando Velasco – who has been splitting time with rookie Trai Turner at right guard – slid over to left guard. If Silatolu is inactive, undrafted rookie Andrew Norwell could be active.
Silatolu's injury prompted the Panthers to add former Panthers guard Chris Scott to the practice squad Tuesday. A new NFL rule that allows teams to carry two practice squad members with one or two accrued seasons of free agency credit made the Scott signing possible, but the Panthers had to promote one of their two exceptions – safety Robert Lester – to the 53-man roster to make room.
Rivera didn't rule out the possibility that Scott could be elevated from the practice squad before the Packers game.
"We've got to see how the week unfolds," Rivera said. "First, we've got to see what kind of condition he's in – you don't want to expose a guy and get him hurt if he's not ready to play."
On the defensive side of the ball, linebacker Chase Blackburn missed practice and could miss at least one game with a knee injury suffered on special teams against the Bengals. Cornerback Josh Norman returned to practice on a limited basis after being inactive last week with a concussion.
"It's always something, isn't it? But we're getting over that hump," Norman said. "If it's up to me, I'd love to play, but the training staff will go through the protocol and abide by it.
"The concussion protocol you have to go through with routine tests over and over, and I've also been healing up my shoulder. The time off has been good for that."