CHARLOTTE – Despite four turnovers and just one third down conversion, the Panthers found themselves in prime position to win Monday night's game against the Tampa Bay Buccaneers.
With the game tied 14-14 late in the fourth quarter, kicker Roberto Aguayo missed his second field goal – a 46-yarder wide left – handing Carolina possession at its own 36-yard line with 3:33 remaining.
But three straight rushes amounted to seven yards and a three-and-out. And after the Buccaneers got the ball back with 1:49 left, they converted two third downs and drove 66 yards to give Aguayo another chance.
He converted when it mattered most, hitting a 38-yarder as time expired for a 17-14 Tampa Bay win – their first against the Panthers since 2012.
"We have the opportunity to get the out on a three-and-out and get the ball in good field position if we make them punt, and we didn't do that," head coach Ron Rivera said. "We didn't do the things we needed to do to win this football game."
The Panthers missed their chance at the three-and-out Rivera alluded to when wide receiver Mike Evans made an 11-yard catch on third-and-7.
"It's about making plays on the ball when it comes our way," said cornerback Robert McClain, the man in coverage. "I broke to the outside shoulder, and he threw it inside. There are a lot of plays that we all wish we could take back."
Three plays later, on third-and-4, quarterback Jameis Winston tossed a short pass to running back Jacquizz Rodgers, who turned upfield for eight yards.
Later, Rodgers ran up the middle for no gain, but defensive end Kony Ealy was penalized for a facemask. The 15-yard penalty moved the ball to the Carolina 17-yard line with 17 seconds left. From there, the Bucs positioned the ball for the decisive field goal.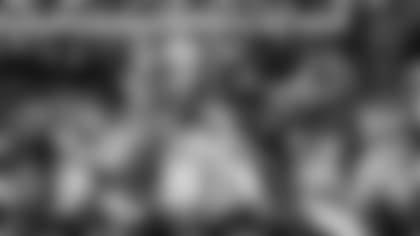 "It's something I have to live with, period," Ealy said of his penalty. "Losing sucks, man. Nobody likes to lose. It's a bad feeling."
The Panthers were one yard away from breaking the 14-14 tie midway through the fourth quarter, but their first-and-goal play went terribly wrong.
Quarterback Derek Anderson – starting in place of Cam Newton, who remains in the concussion protocol – faked a handoff and tossed a pass to tight end Greg Olsen in the corner of the end zone.
For most of the night, the Buccaneers struggled mightily to cover the Pro Bowl tight end, who compiled a career-high 181 yards. But this time they had him covered, and cornerback Brent Grimes leaped to make the interception in the end zone.
"The guy just made a tremendous play," Rivera said.
Tampa Bay controlled the first half thanks to a ball control offense that gave them a big edge in time of possession (21:45 to 8:15). Aguayo hit a pair of 35-yard field goals, and Carolina turned the ball over twice – an Anderson interception and a muffed punt by Ted Ginn, Jr.
The Panthers rallied late in the second quarter to have an opportunity for points, but Graham Gano's 43-yard field goal missed wide left.
Carolina's offense put two touchdown drives together to start the second half. Running back Cameron Artis-Payne went over the pile on fourth-and-goal from the 1 and he scored again on a 12-yard run around the left side.
But it took Tampa Bay only four plays to answer back, as Winston connected with Evans for a 26-yard touchdown. Rookie cornerback Daryl Worley, making his first career start, got caught on a double move.
"That's something I feel as though I could have made a play on if I had my eyes in a better spot," Worley said. "I just have to keep working and continue to get better."
The Buccaneers then tied the game when Winston connected with wide receiver Adam Humphries over the middle on the two-point conversion.
Carolina had its opportunities in the fourth quarter, but the turnovers were too much to overcome. Anderson scrambled and fumbled the ball away in Tampa Bay territory, and his interception in the end zone was the true game-changer.
"We had a chance to win in the end, and we didn't execute properly," Anderson said. "Unfortunately, turnovers got us today."
View game action photos from Carolina's 17-14 loss to Tampa Bay.