CHARLOTTE – With 29 seconds left and the ball at their own 20-yard line, the Panthers offense took the field hoping a few chunk plays would set up a game-winning field goal attempt.
Instead, it was the Kansas City Chiefs who were put in position to break the 17-17 tie.
Wide receiver Kelvin Benjamin ran a slant and caught a 14-yard pass, but Kansas City cornerback Marcus Peters ripped the ball away from him before Benjamin went to the ground. Three plays later, Cairo Santos kicked a 37-yard field goal as time expired to hand the Panthers a crushing 20-17 defeat.
"It's a matter of protecting the football late in the game," head coach Ron Rivera said. "We have to protect the football."
Benjamin said he was trying to fight his way out of bounds after making the catch. Peters saw an opportunity to make a game-changing play, and he took it.
"I can't really describe it. It's a tough loss," Benjamin said. "I wish I would have went down."
That wasn't the only turnover that proved mighty costly for Carolina.
Earlier in the fourth quarter, with the Panthers leading 17-6, quarterback Cam Newton was pressured into an errant throw on third-and-6. Safety Eric Berry picked off the pass for tight end Greg Olsen and cut back across the field for a 42-yard touchdown.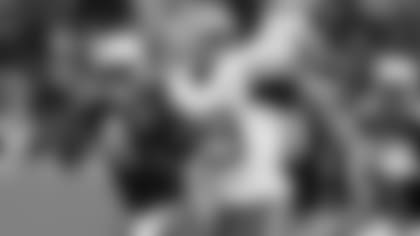 That pick-six and the 2-point conversion by tight end Travis Kelce made it 17-14. Kansas City took advantage of a short field moments later to tie the game with a 33-yard field goal.
"We turned the ball over twice. You can't do it," Rivera said. "If you do that, you don't give yourself a chance to win. That's the truth of the matter."
The Panthers were in total control of this game in the first half.
The game's opening possession ended with a 42-yard field goal from Graham Gano, who became Carolina's punter after Andy Lee suffered a hamstring injury.
Quarterback Cam Newton scored the game's first touchdown early in the second quarter, charging through defenders for a 4-yard score. The rushing touchdown was Newton's 47th, making him the franchise's all-time leader in that department.
Newton connected with wideout Devin Funchess for a 38-yard touchdown on the first play following the two-minute warning to give the Panthers a 17-0 lead.
Kansas City got on the scoreboard with 10 seconds left in the half, as Santos converted a 47-yard field goal.
The third quarter was dominated by Carolina's 20-play drive that churned 10:08 off the clock. But they had no points to show for it.
After advancing to the Kansas City 20, Newton rushed for a 1-yard loss and was sacked twice for a loss of 19 combined yards, forcing Gano to punt.
"That drive was a big turning point in the game," tight end Greg Olsen said.
The fourth quarter belonged to the Chiefs. The team that came into the game leading the NFL in takeaways came up with two enormous ones to push Kansas City to victory despite not scoring an offensive touchdown.
"They found a way. Even with the odds stacked against them, they found a way," safety Kurt Colman said. "As a whole, we didn't get it done today."
View game action photos from Carolina's 20-17 loss to Kansas City.