CHARLOTTE - Despite giving the ball away three times and totaling one rushing yard between running backs Jonathan Stewart, Christian McCaffrey and Fozzy Whitaker, the Carolina Panthers had a shot at a game-winning drive late.
"My evaluation is that we didn't have good ingredients to win," quarterback Cam Newton said following Carolina's 28-23 loss. "Turning the ball over as many times as we did, giving them layups for scores. In order to win a game like that, you have to protect the football better. I am mostly talking to myself with that."
Down by five points with two minutes remaining and zero timeouts, Carolina began its final drive at its own 31-yard line. A 12-yard dart to wide receiver Kelvin Benjamin and a 9-yard completion to wide receiver Russell Shepard put the Panthers in Eagles territory, but two incomplete passes on third and fourth down sealed Carolina's fate.
"The last two plays we didn't have any timeouts," head coach Ron Rivera said. "We are trying to get the ball, one to Ed Dickson gets tipped. If it doesn't get tipped it's a first down and he probably turns it into an eight or nine-yard gain. Unfortunately, it got tipped. Unfortunately, the second one, yes, we missed an opportunity."
The Panthers' offense was completing drives earlier. McCaffrey's 25-yard punt return, the longest of his NFL career, sparked the offense in the second quarter to a 57-yard scoring drive in just four plays. Newton found a wide-open Dickson for 13 yards and a diving Benjamin for 14 yards before scampering 16 yards into the end zone. The score put Carolina up 10-3, but nearing the end of the second quarter cornerback Rasul Douglas intercepted Newton inside Carolina's 20. The pocket collapsed on the quarterback, who was hit while throwing.
"I was on my guy, and I saw the ball coming," Douglas said on the interception. "I think someone tipped it, but I am not sure. It was in the air a long time, and I just ran under it. I was trying to score, but I didn't get in there."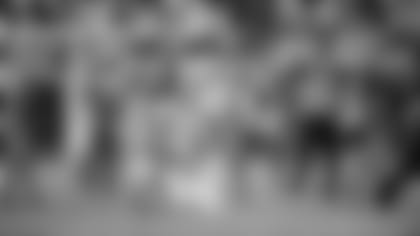 It took the Eagles seven plays to move 12 yards, but quarterback Carson Wentz ultimately capped off the drive with a 1-yard touchdown pass to tight end Zach Ertz.
Misfortune struck once more for the Panthers at the start of the third quarter. Newton tossed a routine screen pass to Stewart, but the ball slipped from his fingertips and into the hands of cornerback Patrick Robinson. Wentz once more topped of the short drive with a 17-yard touchdown pass to Ertz.
"We had a lethargic wave in the third quarter," Newton said. "As I am playing the game back, we just have to be better. We have to give our fans better, ourselves better. That's two losses at home that we know we are better than the product that we put out on the field. There are no excuses."
Carolina clawed back within five in the fourth quarter following a 1-yard touchdown pass to McCaffrey, but failed to capitalize on the late momentum shift. The loss drops the Panthers to 4-2 on the season and into second place in the NFC South behind the Atlanta Falcons.
"Obviously tonight, we feel like we could have been 5-1, but at the same time, you look at the bigger picture and obviously it's just one game," Shepard said. "This is a game we can get better from. This is a game we can learn from. We are not going to hang our heads. We are going to look at the film, evaluate a few things and get better from this."
View the top photos from Panthers vs. Eagles by team photographer Melissa Melvin-Rodriguez and second shooters, Jamey Price and Andrew Dye.