CHARLOTTE – The Carolina Panthers entered their Christmas Eve game at Bank of America Stadium with fleeting hopes for the playoffs but realistic hopes of preventing the Atlanta Falcons from moving closer to taking the NFC South crown.
The Falcons, however, dashed all those hopes with a strong start that catapulted them to a 33-16 victory in Carolina's final home game.
"I'm disappointed, but there's hope for the future. We had a long, long run," said quarterback Cam Newton, whose Panthers will miss the playoffs for the first time since 2012. "We wanted to have better results, especially for our last home game, but that's football."
Newton, who wouldn't blame a shoulder injury for his 18-for-43 day, lamented the slow start the offense got off to, but the entire team shared in the sluggishness. The Falcons were sharp out of the gate, taking the opening kickoff and marching 75 yards on eight plays to claim a 7-0 lead when quarterback Matt Ryan hooked up with tight end Joshua Perkins for a 26-yard score.
The Panthers reached midfield on their opening drive after converting a fourth-and-short, but on the next play Newton tossed his first of two interceptions. That set the table for a 51-yard field goal by Matt Bryant, and a subsequent three-and-out by Carolina's offense was followed by a 48-yarder by Bryant.
Just before the first quarter had expired, the Falcons had a 13-0 lead.
"I'm disappointed. We didn't protect the ball early on, and we didn't take the ball away," head coach Ron Rivera said. "We just missed plays. That's disappointing. I thought we had a good week. I thought our preparation was sharp and the guys looked good coming into the game.
"At the end of the day, we just didn't get it done."
Another touchdown reception by an Atlanta tight end, this one by Levine Toilolo from 1 yard out to cap another 75-yard drive, gave the Falcons a 20-3 halftime lead. The Panthers responded by scoring on their first two drives of the second half, highlighted by a 26-yard touchdown strike from Newton to wide receiver Kelvin Benjamin to close Carolina within 23-13.
Momentum appeared to be shifting, especially after rookie cornerback James Bradberry broke up a long pass for Julio Jones – held to 60 receiving yards after posting 300 in the teams' Week 4 matchup – and then team sack leader Mario Addison dropped Ryan for a 6-yard loss.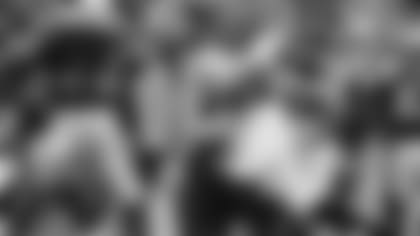 But on what became third-and-21 after a false start, Ryan hit running back Tevin Coleman open in the flat for a 31-yard gain. The Panthers then fell flat on the next snap, when Coleman took a pitch and steamed 55 yards for a touchdown that made it 30-13 early in the fourth quarter and essentially ended Carolina's comeback hopes.
"We had an opportunity on third-and-long, and we got out-leveraged in the flat and they got a first down," Rivera said. "That kind of took the wind out of our sails. We had some good momentum, but unfortunately we didn't make the play."
The Panthers entered the day multiple Hail Marys removed from a fourth consecutive playoff berth. Those faint hopes officially died when Washington beat the Bears moments before the Panthers game ended, but pride more than playoff possibilities were the driving force and will be again next week in the season finale at Tampa Bay.
"When you come up short like this, it's just a bad feeling, a really bad feeling," Addison said. "We have one more game to play, and we're going to play our hearts out until the end."
View game action photos from Carolina's 33-16 loss to Atlanta.