ATLANTA – One minute, the Carolina Panthers were getting blown off the field. The next minute, their offense trotted onto the field with a chance to complete a most improbable of comebacks.
The Panthers trailed the Atlanta Falcons 34-10 with 12 minutes left in a game that arguably wasn't that close, but twice in the waning minutes – with their backup quarterback under center – Carolina closed within a single score.
Eventually, however, the hole they dug in the first three quarters proved a little too deep, and the Panthers stumbled to a 48-33 loss in their final appearance at the Georgia Dome.
"Through three quarters today, that's probably the worst collective game that we've played maybe since I've been here," tight end Greg Olsen said. "We put ourselves in position to have a chance, but it's hard to come back from such a deficit against a team like that at their place. We were fighting a lot of uphill battles there."
The Panthers were up against a historic effort from wide receiver Julio Jones, whose 300-yard receiving day was the fourth-biggest in NFL history and keyed quarterback Matt Ryan's 503-yard passing day.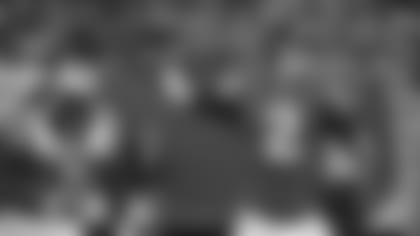 Amazingly, though, Jones hadn't scored a touchdown with just four minutes left in the game, and in the meantime the Panthers worked their way in position to possibly pull of a comeback for the ages.
The offense, held to a single field goal by an improving but far-from-impervious Atlanta defense through three quarters, suddenly caught fire in the fourth quarter. With Carolina down 34-10 – the lone touchdown provided by a defense that otherwise struggled – Cam Newton led the offense 63 yards in just 97 seconds, capping it with a 6-yard touchdown strike to Kelvin Benjamin.
The Panthers had to go for two in an attempt to make it a two-score game and succeeded, but at a price. Newton kept the ball around the left side and appeared in position to walk in, which is essentially what he did until linebacker Deion Jones came out of nowhere from Newton's perspective and lit the quarterback up with a helmet-to-helmet shot, a hit that landed Newton in the concussion protocol and turned the game over to capable backup Derek Anderson.
Anderson kept it going. The defense quickly got the ball back to the offense, which traveled 94 yards and made it a one-score game with 3:58 left when Olsen made an acrobatic 14-yard touchdown grab with one hand and then secured another two-point conversion.
"Not that it gives you much solace, but there is no give-up in this team." Olsen said. "We fought back and cut it to one score twice, but then you saw what happened both times."
The first time, Julio happened. On the first play after the ensuing kickoff, Jones caught a pass in stride at his own 36 and then turned it upfield, streaking down the right sideline for a 75-yard score that seemed to squelch the rally in an instant.
Using half the time left and none of the Panthers' three timeouts, Anderson directed the offense back into the end zone, making it 41-33 with 1:53 on a 16-yard strike to Philly Brown on fourth-and-2.
The defense forced another three-and-out, and Carolina took possession at its own 24 with 1:25 to go. But hopes were again dashed immediately and this time for good, when on the first play Anderson floated a pass over Olsen's head and into the waiting arms of cornerback Robert Alford, who returned it 30 yards for the clinching touchdown.
"I saw Greg go out in the flat and started to throw it, and then I tried to pull it back and just hold onto it," Anderson said. "It turned into a non-confident throw, and it floated over his head. Unfortunately, a guy was sitting right there."
The Panthers were lucky still be within striking distance at halftime, but the third quarter appeared to take any drama out of the division showdown. Trailing just 17-10 at halftime despite being shredded on defense – saved by a Kurt Coleman 8-yard interception return – the Panthers endured more of the same in the third quarter.
Already with a 99-yard touchdown drive to their credit, the Falcons opened the third quarter with a 98-yard march followed by a 92-yard one to lead 31-10.
"We went into halftime 17-10 and feeling pretty good about it, but then we couldn't get the stop we needed coming out," head coach Ron Rivera said. "You'd like to be able to stop them on their first drive and put your offense back on the field because we had a little bit of momentum at that point. Unfortunately we weren't able to do that."
As a result, a Panthers team that went 15-1 and steamed through the NFC South a year ago fell to 1-3 and will have to play catchup with the Falcons now standing at 1-3. The silver lining is that most of the Panthers' players and coaches were on the 2013 that started 1-3 before finishing 12-4 and the 2014 team that started 3-8-1 but won out to return to the playoffs.
"We're 1-3. We've been here before," Rivera said. "We're going to find out the character of this team and try to head in the right direction.
"It's not time to panic. We've got some experience with this. We're just going to have to work through it and find some answers."
View game action photos from Carolina's 48-33 loss to Atlanta.