LOS ANGELES – It wasn't a work of art, but it will work.
The Carolina Panthers, in need of victories any way they can get them, got what most would describe as an ugly win Sunday against the Los Angeles Rams, surviving a slugfest 13-10 at the L.A. Memorial Coliseum.
"I've never heard of a pretty loss." quarterback Cam Newton said. "For us the most important thing is just finding always to win football games.
"It's not pretty. Not all games are going to be pretty. But I'm proud of everybody for pushing through and getting the job done."
The Panthers never trailed but also were never comfortable, outlasting the Rams to claim their first winning streak of the season. After a 1-5 start, the Panthers are now 3-5.
"As long as we continue to string wins together, that's all that matters," linebacker Thomas Davis said. "We still control what happens to this football team. But we've still got to take it one week at a time."
Davis had arguably the prettiest play of the game, leaping high to pick off a Case Keenum pass on Carolina's side of the 50 in the final seconds of the third quarter, somehow gaining control of the ball with sheer strength and determination before it could escape his grips. He threw the ball in my direction, and I was like, 'Come down with this football by any means necessary.'"
The play protected a 7-0 lead, then the offense did some dirty work in a game of hard-earned inches to make it a two-score game for the first time all day. Jonathan Stewart, who had just 10 yards on nine carries against a stout defensive front entering the drive, broke free for a 17-yard run to set up Graham Gano for a 38-yard field goal and a 10-0 lead – a massive margin the way the game was playing out.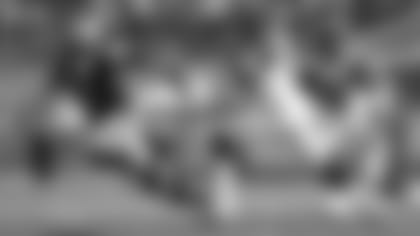 The Rams answered right back with their first points of the game, a 25-yard field goal to again make it a one-score game with eight minutes left, but the Panthers took nearly five of the remaining minutes off the clock before Gano hit another field goal for a 13-3 edge. The Rams reached the end zone in the final seconds, but it was too little, too late.
"A win is a win," said A.J. Klein, who started in place of injured linebacker Shaq Thompson "You look around the league, most games are decided by less than a touchdown.
"There's no such thing as an ugly win. There are obviously things we can improve on, but at the end of the day, a win is a win."
The Panthers took control relatively speaking early on by taking control of field position in an unusual way and then taking advantage of it. The Rams hit a couple of passes out of the blocks but couldn't reach the red zone because the Panthers held Todd Gurley – one of the most dangerous young runners – to eight yards on four carries on the opening drive.
Gurley fought for every yard he could get, but at the end of the day he had just 48 yards on 12 carries.
"Todd Gurley is a tremendous football player," head coach Ron Rivera said, "and we didn't want to give him a chance to get started."
The Rams battled their way into range on their first drive to attempt a 55-yard field goal, but when it missed the mark, the Panthers had the ball at the 45. After the teams traded punts, the Panthers had the ball at the 43, and they responded to their second chance with their one touchdown drive of the game.
Carolina mustered just 51 yards and three first downs on its other five first-half drives, but this one gained 53 yards, four first downs and seven points. Newton hit five different receivers on the methodical march, finishing it off with a 9-yard strike to tight end Greg Olsen on third-and-5 for a 7-0 edge.
"It was just man-to-man and (safety T.J. McDonald) came up and tried to jam me at the line," Olsen said. "I was able to get a pretty good release on him and find that little seam.
"Cam just put it right on my chest."
The play looked so much easier than just about everything else on this day, but the Panthers made the sledding the toughest on the Rams. They twice reached Carolina's 37-yard line for missed 55-yard field goals in the first half but didn't get any closer to the goal line until their two scoring drives in the final eight minutes of the game.
"This is very satisfying, especially to come out in a game like this," Rivera said. "It's huge for us against a tough football team, a physical football team."
View game action photos from Carolina's 13-10 win over Los Angeles.