LANDOVER, Md. – The Panthers didn't look like a team with nothing to play for on Monday Night Football.
Carolina was the superior team in every facet, as the Panthers never trailed the Redskins on their way to a 26-15 victory at FedEx Field to improve to 6-8 on the year.
"We've stuck together throughout it all," safety Kurt Coleman said. "We're playing for each other, and we're fighting till the very end."
After the teams exchanged field goals, the Panthers took a 10-3 lead when quarterback Cam Newton connected with wide receiver Ted Ginn, Jr. for a 30-yard touchdown. Ginn ran down the seam between safety Donte Whitner and cornerback Josh Norman and found himself wide open in the end zone for the easy score.
Coleman intercepted Washington quarterback Kirk Cousins on the last play of the first quarter, setting up a 23-yard Graham Gano field goal to extend the lead.
The Redskins cut the halftime deficit to four after running back Rob Kelley rushed for a 5-yard touchdown (the point after attempt was missed). That proved to be Kelley's longest run of the night.
Head coach Ron Rivera stressed how important it would be for Carolina to stop the run, and in turn, limit Washington's effectiveness with play-action passes downfield.
The Redskins finished with 29 rushing yards, and there were no explosive plays to be had for the league's second-ranked offense.
"Stopping the run allowed us to take away their play-action passing, and we were able to keep the ball in front of us, didn't allow them to beat us over the top," Rivera said. "That's how we were able to slow this offense down a little bit."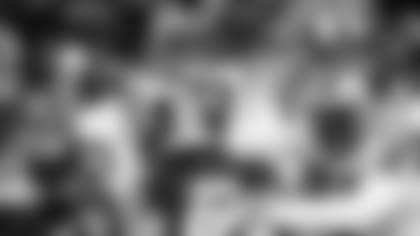 On the first snap of the second half, defensive end Wes Horton made the biggest play of the game. Horton overpowered tight end Vernon Davis, pushing him into Cousins as he got ready to throw. The ball came loose, and Horton recovered it at the 1-yard line.
"To make an impact play of that magnitude, to put the ball on the one-yard line for us, that was probably the biggest play I've made in my NFL career," Horton said.
Newton tossed a play-action pass to fullback Mike Tolbert for the 1-yard touchdown, and just like that Carolina had a 20-9 lead.
Gano added a 23-yard field goal later in the third quarter, and frustration began to set it in for Washington.
Redskins tight end Jordan Reed was disqualified for throwing a punch at Coleman – a penalty that helped force Washington settle for a short field goal early in the fourth quarter.
A third Dustin Hopkins field goal cut the Carolina lead to eight with 3:44 remaining in the game. But running back Jonathan Stewart, who had been wearing down the defense with punishing runs all night, responded with his longest run – a 34-yard scamper which ultimately led to a 41-yard field goal from Gano to seal it. "We just wanted to come out and compete," said Newton, who had his best game in weeks, throwing for 300 yards and completing 21-of-37 attempts. "Coach challenged us all as men, as players, as professionals to come out and do our job. We prepare and we come to work every day to win football games. That's what we tried to do today, and we did it."
View game action photos from Carolina's 26-15 win over Washington.