DETROIT - Cam Newton and the Carolina Panthers earned their second impressive road victory in as many weeks, scoring 24 consecutive points before holding on for a 27-24 victory over the Detroit Lions.
One week after a last-second victory at New England, the Panthers fell behind 10-3 against a fellow 3-1 team before dominating the second and third quarters. The onslaught began early in the second quarter when running back Christian McCaffrey scampered into the end zone from six yards for his first career touchdown on a beautifully designed shovel pass.
The drive could have ended early with a punt, but on third-and-1 at Carolina's 34, Newton moved the chains with a 57-yard pitch and catch to tight end Ed Dickson - his second long reception of the day. Dickson finished with five catches for 175 yards, setting an NFL record for most yards per catch for a tight end with five or more catches.
"The way Kelvin (Benjamin) and Devin (Funchess) have played the last couple weeks – I think that's gotten everyone's attention," head coach Ron Rivera said. "The tendency now is to forget somebody. Ed showed he's a more than a capable player in this league. He did a very nice job, ran good routes, and Cam found him."
Newton looked like his 2015 MVP self in the victory, tossing two more touchdowns after the one to McCaffrey. Newton completed 79 percent of his passes and finished with 141.8 passer rating.
"It's just about getting healthier and healthier," Rivera said. "He really didn't have a training camp. Those first few games were his training camp, and now he's getting back into it. Now, he's had a couple of really good weeks."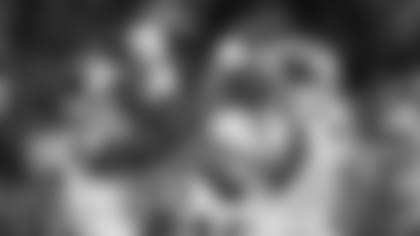 Newton capped off the first half with 10-yard touchdown strike to Funchess, who returned to Ford Field for the first time since the state championship game when he was junior in high school. The receiver led the Panthers in both targets (eight) and receptions (seven).
"He has big play ability because of his size, speed and quickness – good hands, concentration and good focus," Rivera said. 
"He and Kelvin can become a tremendous one-two punch. I think both of those guys with their skillsets are a dangerous combination."
The duo combined for 111 receiving yards and two touchdowns on 11 receptions. Benjamin's biggest contribution came in the third quarter when he raced past his defender on a seam route down the left sideline. Newton dropped a perfectly placed pass into the outstretched arms of Benjamin, who reeled in the 31-yard touchdown pass to build the lead to 24-10.
"The one he threw to Kelvin for the touchdown to the corner, back left, that was solid Cam," Rivera said. "Him and Kelvin connected very nicely."
Despite leading by three scores late, Detroit gave Carolina a scare. Lions quarterback Matthew Stafford twice connected with tight end Darren Fells for touchdowns in the fourth quarter, and the Lions were one play away from getting the ball back with a chance to catch up before Newton hit Benjamin for a 17-yard gain. The Panthers then entered victory formation and ran out the clock.
"The biggest thing is the trust factor in Cam making decisions," Rivera said of the pass to seal the victory. "We gave him an option in terms of where he could go with the ball. He saw what he was looking for, and Kelvin was the target. He's doing some really things right now and is in real good sync with his receivers. They're running good routes and making plays for us."
View photos from Carolina's victory over Detroit.