CHARLOTTE – The Panthers started fast on both sides of the ball and earned a 27-17 victory over the Houston Texans in the preseason opener at Bank of America Stadium.
Wide receiver Kelvin Benjamin opened the scoring with a jaw-dropping 23-yard touchdown catch on Carolina's second series. And the Panthers' first-team defense was lights out, forcing consecutive three-and-outs.
"It's great to see Kelvin make that play," head coach Ron Rivera said. "And defensively, I liked what the first unit did right off the bat."
Said safety Kurt Coleman: "It was just six plays, but we set the tempo and the tone. We stopped the run every time they tried it, and on the passing downs the front seven got after 'em. And I thought we did a great job in coverage for the plays we were out there. We want to continue to get better and better, but it's very promising how we started."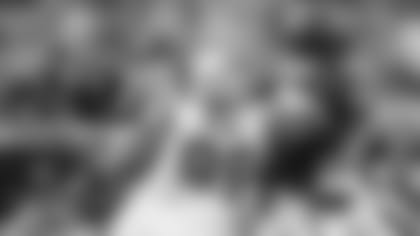 Texans running back Alfred Blue answered with a 16-yard rushing touchdown late in the first quarter, but Carolina regained the lead late in the second quarter when quarterback Joe Webb launched a deep ball to speedy wide receiver Damiere Byrd for a 50-yard score.
Each team tacked on a field goal to make it 17-10 at the half. Then Webb and Byrd combined again to extend the lead. Webb found Byrd cutting across the end zone for an 8-yard score in the third quarter.
"(Damiere) is taking the opportunity," Rivera said. "He's taking advantage."
Texans rookie quarterback Deshaun Watson reached the end zone on a 15-yard scramble late in the third quarter, cutting Carolina's lead to 24-17.
Rookie kicker Harrison Butker nailed a 51-yard field goal to make it 27-17 late in the fourth quarter.
"Obviously we talked about coming out and starting fast," said quarterback Derek Anderson, who started in place of Cam Newton (shoulder). "With our group, we executed really well. We had a few mistakes, but you aren't going to be perfect with the first one."
Photos from the Panthers preseason opener against the Texans.