CHARLOTTE –  Behind a record-breaking offensive night, the Panthers look primed for primetime, scoring touchdowns on five consecutive possessions to defeat the Dolphins 45-21 on Monday Night Football.
"I think part of it is we did some things vertically," head coach Ron Rivera said. "We took a couple of shots. I think that helped open some things up underneath. I thought it was a really good mix early on. I thought Mike Shula called a nice game, mixing in the run and pass, the play action, stuff like that."
While the defense set the tone early, the offense capitalized on opportunities, to the tune of six touchdowns and 548 total yards, a franchise record. Luke Kuechly's late second-quarter interception spurred the Panthers before halftime. With under a minute remaining, the linebacker jumped in front of a pass intended for Dolphins tight end Julius Thomas and picked off quarterback Jay Cutler.
"I had an idea out of that condensed formation," Kuechly said on the interception. "There are a couple of routes. (Linebackers coach) Al Holcomb had talked about that route all week. It was a good team play. It was great for our offense to go down there and score a touchdown before half."
The turnover set the Panthers up with excellent field position and it only took quarterback Cam Newton four plays to cap off the 20-yard drive with a touchdown pass to tight end Ed Dickson.
"It was big," Newton said on scoring before halftime. "I said each and every week and coach Shula says it for his keys to win, when we have the opportunity to defer to the second half and get those sneaky points, and we got those sneaky points. It was a 14-point leap before their offense got back on the field."
The score gave Carolina a 17-7 lead entering halftime.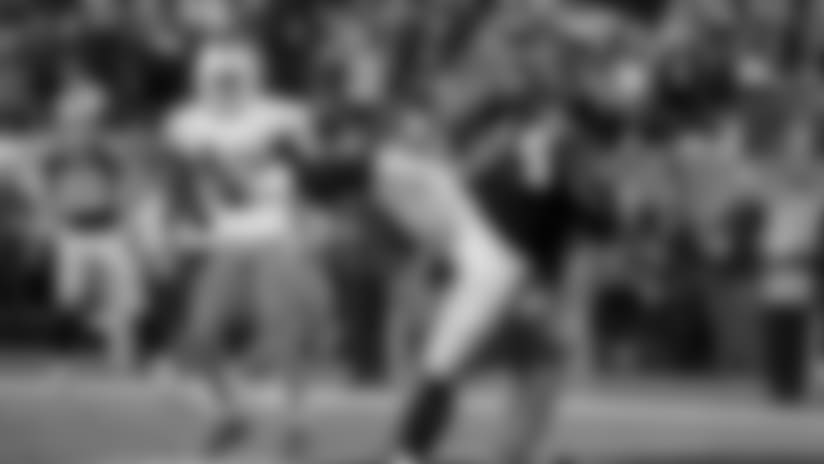 The offense opened the floodgates in the second half. Carolina initially increased its lead to 24-7 on a screen pass turned 28-yard touchdown to wide receiver Devin Funchess. With the help of a key block from running back Christian McCaffrey, Funchess weaved through the Dolphins' defense untouched showcasing his 4.5 speed.
"We had worked that in practice a little bit," McCaffrey said on the block that helped Funchess find the end zone. "Cam had got to it late. It's a great call knowing that they were blitzing a little bit. Funchess is always blocking for me so I had to return the favor."
On the ensuing drive, running back Jonathan Stewart took two handoffs for a combined 23 yards before his counterpart Cameron Artis-Payne scampered 12 yards for his first touchdown of the season. 
"It was really good seeing those guys run, the different groups, the different tandems of guys going in there," Rivera said.
Midway through the third quarter, the Dolphins showed off some explosiveness of their own on a 66-yard touchdown run from running back Kenyan Drake, but Newton matched it on the following possession. The quarterback exhibited his dual threat ability on a 69-yard rush up the middle, the second longest of his career. The carry ultimately set up a 2-yard touchdown pass to running back Christian McCaffrey, his second touchdown of the game and first two touchdown game of his career. 
Newton connected with Funchess once more in the fourth quarter on a 32-yard touchdown pass. The score marked the first four-touchdown passing game for Newton on Monday Night Football in his career. He's now 5-1 on Monday Night Football, throwing for multiple touchdowns in all six appearances.
"The coverage leading up to a Monday night football game, it's like no other," Newton said. "You still want to treat it like it's any other game. You know that America's watching and you know there are a lot of family members that don't usually have the opportunity to see you can see you on Monday night."
With the win, the Panthers improve to 7-3 on the season, trailing the New Orleans Saints by a half-game in the NFC South before heading into a bye week.
"I'd like to keep rolling, but it came at a good time for us as well," Rivera said. "I think our guys earned a good break. We will bring them in and watch this tape. Then they will head out for a few days and we will get back and start getting ready for the next week."
Images from Carolina's victory on Monday Night Football over Miami.