CHARLOTTE – The San Francisco 49ers proved surprisingly pesky early in the Panthers' home opener Sunday at Bank of America Stadium, but the reigning NFC champions eventually took command.
"The second half we had an opportunity to put them away. We put them away," quarterback Cam Newton said.
"And then, we let them back in. That just can't happen."
The Panthers absorbed initial resistance from the 49ers by scoring 24 unanswered points to build a three-touchdown lead, then they held on after San Francisco pulled within a single score to emerge with a 46-27 triumph.
"When we're firing on all cylinders, it's fun to be a part of and fun to watch, but we can't allow ourselves to keep having those lulls," said Newton, who bounced back from an interception on his first pass of the day to throw for 353 yards and four touchdowns. "It felt early on like we were taking turns messing up. This play it was me. Next play it was that person. Next play it was this person. You don't have good production with that.
"When we just settled down and honed into our responsibilities, everything took care of itself."
It looked like the Panthers had finally taken care of business after wide receiver Kelvin Benjamin opened the second half with tough touchdown receptions of 10 and 9 yards from Newton, the second one giving Carolina a 31-10 edge and giving Newton the Panthers' all-time record for career touchdown tosses with 121.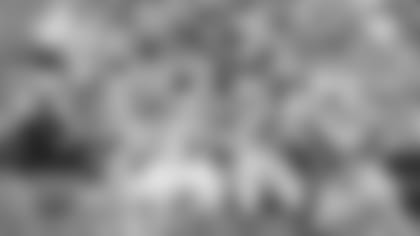 But after the defense forced a 49ers punt for the sixth consecutive drive going back to the first half – including four three-and-outs – one of Newton's signature scrambles ended on a sour note when he lost a fumble.
Carolina's defense turned the 49ers away – pushing them back 4 yards in fact – and held them to a field goal. But on the ensuing kickoff, Ted Ginn, Jr. couldn't corral the ball, setting San Francisco up for a 1-yard touchdown "drive." After Ginn bounced back with a 59-yard kickoff return to set up a Graham Gano field goal, the 49ers struck with a 75-yard touchdown pass from Blaine Gabbert to tight end Vance McDonald.
Just like that, with 7:51 still to play, the Panthers' lead was down to 34-27.
"We had a couple of lulls in the fourth quarter that we can't have," linebacker Thomas Davis said. "Championship-caliber teams close games out. We were able to bounce back and do it today, but as the season goes on, we can't allow things like that to happen."
The 49ers forced a pair of incompletions on Carolina's next drive, but that's when the Panthers bounced back. On third-and-10, Newton hung in the pocket and rocketed a pass over the middle for Benjamin, who held on for a 25-yard gain between two defenders that crunched him and knocked his helmet off in the process.
That kept the ball with the Panthers and kept the clock going, eventually setting up Gano for a 49-yard field goal with 4:08 left and a 37-27 lead. The defense then put the finishing touches on the victory, with linebacker Luke Kuechly and rookie cornerback James Bradberry picking off passes on the 49ers' next two possessions. The offense cashed in on both, with Newton hitting wide receiver Devin Funchess for a 16-yard score after Kuechly's pick and Gano drilling his fourth field goal to cap it.
"We put up a lot of plays, put up a lot of yards, put up a lot of points, but I still don't think we played very well," tight end Greg Olsen said. "We have to be a lot more dialed in and smoother with our operation.
"You know we will, we will work on that. It gives us something to work on going forward, and we got the win."
Olsen got the Panthers heading in the right direction in the first place, starting the key stretch in the game in which both sides of the ball played well. The defense provided the first spark, when linebacker Shaq Thompson picked up a fumble by running back Carlos Hyde – who was held to 34 total yards – and fought his way into the end zone for a 9-yard touchdown and a 7-3 lead for the Panthers.
The 49ers, however, answered right back with a 28-yard touchdown strike from Gabbert to Torrey Smith to reclaim the lead and, heading to the final 10 minutes of the first half, the San Francisco defense still had not allowed a point all season.
On the next play, Olsen changed that and changed the game, starting the Panthers on their path to 24 unanswered points. Olsen sped across the middle, caught a Newton pass in stride and raced from the San Francisco 43 all the way to the end zone for a 78-yard score and a 14-10 lead.
"When I passed the safety, I could feel that he was flat-footed, so I knew I was behind him a bit, and then I didn't need to break stride to catch the ball," said Olsen, adding that it was the longest touchdown of his football life. "I didn't think that they could catch me. I'm just glad they didn't because I never would have heard the end of it."
If the 49ers had caught the Panthers, Carolina would have never heard the end of it, either. But, despite some stops and starts, that play gave the Panthers a lead they never relinquished.
"There are some things that we have to get corrected if we expect to be a very good football team," head coach Rivera said. "But anytime you win in the NFL, it's a nice thing."
View game action photos from Carolina's 46-27 win over San Francisco.