CHARLOTTE - The Carolina Panthers' disruptive defensive front once again produced a near-perfect game and fueled Carolina's 9-3 home-opening victory over the Bills.
"A win is a win," defensive end Julius Peppers said. "It was a close game. They had a shot right there at the end, but other than that I thought we held them down pretty good."
Buffalo trailed for the entire game, but gave the Panthers at scare in the final moments, nearly executing the two-minute drill to perfection. Bills' quarterback Tyrod Taylor worked the sidelines on a drive that began from Buffalo's 25-yard line with just over two minutes remaining. A string of completed passes and a couple scrambles gave Buffalo a shot at the end zone from 38 yards out with 14 seconds remaining. Rookie wide receiver Zay Jones broke free near the right pylon, but couldn't haul in Taylor's slightly overthrown pass to steal the victory.
"Please drop it, or if he catches it right there, please someone jump on him and let the clock run," cornerback Captain Munnerlyn said on the final play. "Even though they had a timeout, he didn't make the catch and we came away with the win."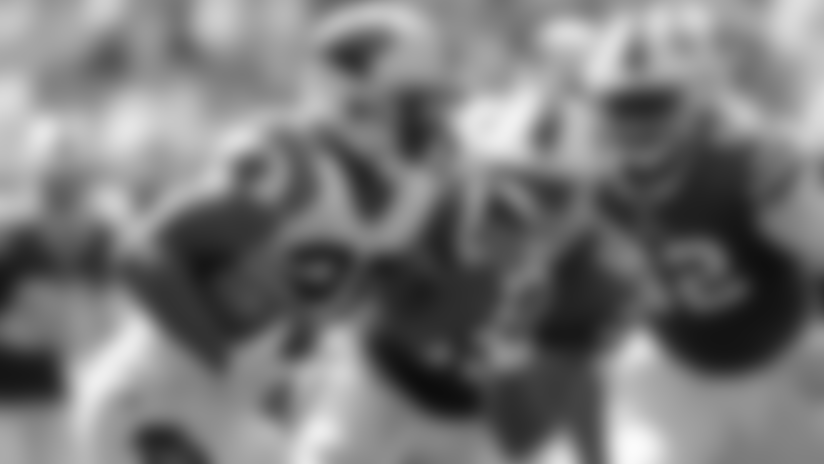 After garnering praise for their performance in Week 1, the Panthers defense once more lived up to heightened expectations in Week 2. The Bills fought to move the ball with little success for the majority of the game and held possession for just 21:07. Carolina's defense proved why they could be one of the best units in the league this year, limiting the Bills to 176 total yards and 3-of-11 on third down. Taylor struggled to find open receivers and often relied on his mobility to make plays. While Taylor averaged nearly seven yards per rush, the Panthers held all-pro running back LeSean McCoy in check. McCoy finished the game with nine yards rushing on 12 carries - the fourth lowest rushing total of his career. 
"He is very dangerous," head coach Ron Rivera said on McCoy. "That was one of the things that when we came in, we felt we had to be very gap disciplined against him. When we went out into the routes we had to make sure we had two, three guys coming to get him. We couldn't let him get out there on his own. I thought we did a nice job with that."
For the second straight game, Carolina held the opposition under 70 yards rushing.
While the defense supplied the Panthers' offense with great field positon on multiple occasions, Carolina only managed nine points. Three Graham Gano field goals – 34, 28 and 20 yards – proved to be enough.
"It's a good feeling," Gano said postgame. "(I'm) just trying to chop away and just one kick at a time, trying to help the team win."
Cam Newton completed 20-of-32 passes and threw for 228 yards while wide receiver Kelvin Benjamin led the team with 77 yards receiving on six receptions. Running backs Jonathan Stewart and Christian McCaffrey combined for 50 yards rushing.
While securing a win and improving to 2-0 was mission No. 1 entering the afternoon, exiting the field healthy was a close second - something Carolina couldn't achieve. Early in the second quarter, Greg Olsen pulled up on a route over the middle and limped off the field, only to disappear to the locker room. Following the game, Olsen confirmed he had broken his foot. While the injury likely won't sideline the tight end for the season, the Panthers will miss a key piece of their team going forward.
"It's tough. I broke my foot, pretty straight forward," Olsen said. "the x-ray was pretty conclusive. It's tough for something like that to just happen. I'm going to miss a lot of games. Sometimes it is what it is, but we're 2-0."
Images from the Week 2 contest between Carolina and Buffalo.