CHARLOTTE – Kurt Coleman had to laugh, but at the same time, he knew it was no laughing matter.
When New England Patriots quarterback Tom Brady took to the field for his first preseason action Friday night at Bank of America Stadium, Brady told the Panthers safety that he had a feeling Coleman was going to pick him off.
Sure enough, Coleman soon had a Brady pass dead in his sights.
"I just didn't catch it," said Coleman, who flat-out dropped the would-be interception. "I pride myself on being able to finish plays. I work way too hard throughout the week to get in that position, but I'll learn from it."
And so it went on this night for the Panthers, who failed to cash in on nearly enough opportunities in a 19-17 loss to the Patriots.
The good news? Quarterback Joe Webb's two fourth-quarter touchdowns to tight end Marcus Late may have been too little, too late to pull out a victory, but it's still early on the football calendar.
"We're in position to make plays. That's the best thing about it," head coach Ron Rivera said. "It's not like we were out there getting our butts whipped. That's a good football team and is very well-coached, but we had opportunities. We just didn't make the plays.
"That's disappointing. Now, if we hadn't been in position to make plays, I would be upset, but I'm not. I'm just disappointed."
The first-team offense played deep into the third quarter but had just three points to show for it. Six of the unit's 11 drives resulted in three-and-outs, and two others ended in Cam Newton interceptions. Newton had totaled just two interceptions in 15 career preseason games entering Friday.
"We took our turns making mistakes, and anytime that happens, you know you're going to get those kind of results," said Newton, who completed 13-of-29 passes for 100 yards. "There's no need to press the panic button, but we do need better production from everybody, including myself.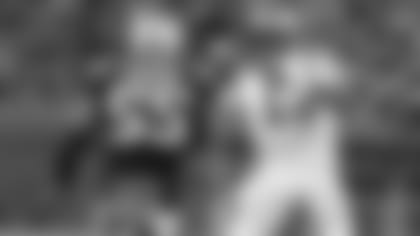 "I'm glad it happened. I'm not glad we lost, but I'm just glad we have an understanding that we're not that good yet. We will be better."
The first-team defense kept Carolina in the game for a long time, but both the Panthers' defense and the Patriots' offense missed several chances. In addition to Coleman's dropped interception, linebacker Luke Kuechly dropped one as well. Stephen Gostkowski, one of the most accurate kickers in NFL history, missed two of three field goals in the first half for the Patriots.
"Catch the interceptions. Make the sacks. We're right where we need to be," Rivera said. "They did some good things, so credit them, but I'm disappointed in the things we didn't do more so than anything else. We didn't do the things we're capable of."
Jimmy Garoppolo, expected to start the first four games of the regular season while Brady serves a suspension, couldn't get the Patriots on the scoreboard, but Brady could. Entering the game late in the first quarter, Brady promptly connected on a 37-yard pass to set up Gostkowski for a short field goal. On the Patriots' next possession, Brady perfectly placed a pass down the right sideline to wide receiver Chris Hogan for a 33-yard touchdown and a 9-0 halftime lead.
The Panthers' first-team offense opened the second half with its best drive of the night but had to settle for a Graham Gano 29-yard field goal after tight end Ed Dickson couldn't hold onto what looked like a sure Newton touchdown toss.
Neither team scored again until going to their third quarterbacks. Rookie Jacoby Brissett from N.C. State led a touchdown and a field goal drive to give the Patriots a 19-3 edge before the Panthers closed strong behind Webb and Lucas.
Webb directed touchdown drives of 75 and 70 yards in the final five-plus minutes, capping the first one with an 18-yard strike to Lucas and the second one with a 14-yard score to Lucas. The Panthers went for two after each touchdown and initially appeared to convert both, but a replay review found that running back Jalen Simmons was down before crossing the goal line after the first touchdown.
"New England gave us a good test," Coleman said. "We've got to get better and learn from this, and we will."
View game action photos from Carolina's 19-17 loss to New England.