OAKLAND, Calif. – The deficit and the injuries mounted, and so did the frustration.
But in the face of it all and against all odds, the Carolina Panthers managed to mount an epic comeback against a quality opponent – only to again face frustration following a late-minute loss.
The Panthers rallied from a 17-point halftime deficit to forge an eight-point lead, but an Oakland Raiders team with a knack for winning close games rallied to a pulsating 35-32 triumph that left the Panthers to settle for a moral victory that they couldn't afford.
"It was a grand effort," head coach Ron Rivera said. "We just didn't pull it out at the end."
Quarterback Cam Newton called it the type of game that makes football fun, and behind an offensive line missing two of its season-opening starters entering the game and two of Sunday's starters by the close of the third quarter, the Panthers made what looked like a laugher fun until the bitter end.
Carolina's first four second-half drives produced touchdowns to turn a 24-7 deficit into a 32-24 lead, but the Raiders drew even midway through the fourth quarter and drew last blood with a 23-yard field goal with 1:45 left.
Oakland (9-2) won its fourth game of the season by three or fewer points. Carolina (4-7) lost its fifth game by three or fewer points on a day when everyone else in the NFC South won.
"Now it's five games where we've lost virtually in the last few minutes. It's disappointing, but that's the nature of this game," Rivera said. "We'll just keep fighting, keep playing. Now we still have an opportunity. We'll see what happens. There's a glimmer of hope. That's all you need sometimes."
Hope was hard to come by heading to halftime, especially after what happened with about a minute left. Down 17-7 and stuck deep in their own territory, the Panthers went to what they considered a safe play that could have possibly produced something they could build on, a throwback screen for running back Fozzy Whittaker. Instead, defensive end Khalil Mack made a special play belying the special player he's become, getting in the path of the pass, picking it and steaming 6 yards for a touchdown.
"You get that to Fozzy and with his ability to run in open space, who knows what happens," Rivera said. "Khalil Mack, credit to him, made a heck of a play because from what we saw it looked we had a little bit of running room there."
The play put an exclamation point on a half in which Newton completed just three passes for 18 yards. The Panthers' one scoring drive of the half featured a 47-yard run by Jonathan Stewart – a play that accounted for more than half of Carolina's first-half offense.
"Everyone just had to man up and check themselves," linebacker Shaq Thompson said. "That is what we did in the second half."
The tide began to turn in fluky fashion. On the second snap of the second half, Raiders quarterback Derek Carr dislocated the pinky finger on his throwing hand trying to take the snap and couldn't secure it, but Panthers linebacker Thomas Davis did. Six played later, Stewart barreled in from one yard out.
Matt McGloin, a fourth-year pro who was an invited tryout at Carolina's rookie minicamp in 2013, replaced Carr under center for the next drive, a short possession that ended with a punt. The Panthers were one play from giving the ball right back, but instead Newton hit wide receiver Ted Ginn, Jr. in stride just past midfield, and Ginn took off for a career-long 88-yard touchdown reception to make it 24-19. The Panthers went for two after Graham Gano's previous PAT had been blocked but couldn't convert.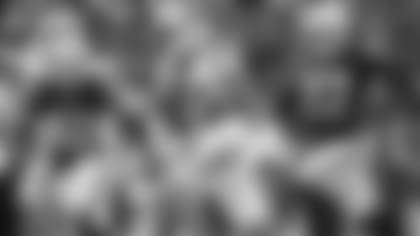 Carr came back for the next drive but again met an unfortunate fate at the hands of Davis, who intercepted Carr's pass over the middle and returned it 31 yards to the Oakland 26. Five plays later, Stewart scored from 3 yards, and even with another failed two-point play, the Panthers led 25-24.
"This game is a funny game when you pick up momentum and get things rolling, things kind of snowball and you create some positive energy for yourselves," Rivera said. "They believed they had a chance to win."
The Panthers weren't done, even with more adversity to come. The defense forced another three-and-out, but the offense's ability to keep it going seemed to sustain a blow when, on the final snap of the third quarter, center Gino Gradkowski went down with a knee injury. The line, already featuring right guard Trai Turner at right guard after Daryl Williams exited late in the first half with an ankle injury, turned to inexperienced Tyler Larsen at center.
The offense didn't blink. Four plays into the fourth quarter, Newton launched one deep for wide receiver Kelvin Benjamin, who outbattled cornerback Sean Smith for a 44-yard touchdown and a 32-24 lead.
The Raiders, however, responded like they have all season. Carr directed them on a 75-yard march to even the score, first with a 12-yard touchdown strike to tight end Clive Warford and then a two-point conversion to wide receiver Seth Roberts.
Oakland got the ball back with 5:05 left after the Panthers came up a half-yard short of a crucial third-down conversion but soon faced a third-and-10 themselves. That's when Carr and wide receiver Michael Crabtree hooked up for the back-breaker, a 49-yard connection with linebacker A.J. Klein seemingly right there.
"I got my feet tangled up because of a little physicality at the top of the route, and I didn't get my head around in time," Klein said. "It was a great throw and catch, but I still feel like I'm good enough to make that play."
The reception set up Sebastian Janikowski for a 23-yard field goal with 1:45 left, and the Panthers' last-gasp effort fell short when Mack sacked and stripped Newton on fourth-and-10 around midfield.
"I've been playing this game long enough to know that the tables will turn sooner or later," Newton said. "They did. We've just got to find a way to keep the table in our favor.
"Oakland is a great team. Hostile environment. This is why you come to the league... to play these type of games. Unfortunately, we got the short end of the stick."
View game action photos from Carolina's 35-32 loss to Oakland.