CHARLOTTE – On the strength of a suffocating defensive effort, which included eight sacks and three interceptions, the Minnesota Vikings snapped the Panthers' 14-game home winning streak with a 22-10 victory at Bank of America Stadium.
A 48-yard field goal from Graham Gano and a 3-yard touchdown run from quarterback Cam Newton allowed Carolina to build a 10-0 lead after its first two possessions.
But the strong start was stopped in its tracks when Newton was sacked by defensive end Danielle Hunter in the end zone for a safety. Despite producing next to nothing offensively, the Vikings were on the board, and the Panthers never recovered.
"We started out well but we didn't respond and handle the adversity the way we needed to," head coach Ron Rivera said.
Penalties were a recurring issue for the Panthers – none bigger than a block in the back call on wide receiver Kelvin Benjamin that wiped out running back Fozzy Whittaker's 56-yard catch-and-run touchdown early in the second quarter.
"We can't have penalties that take away opportunities," said Rivera, whose team was penalized 10 times for 65 yards. "We shot ourselves in the foot."
Special teams became a major factor later in the first half. Minutes after Gano banged a 54-yard field goal attempt off the right upright, Andy Lee was forced to punt from his own end zone.
Minnesota returner Marcus Sherels took advantage of the open lane in front of him and raced down the left sideline for a 54-yard touchdown with 3:21 remaining in the second quarter. Kicker Blair Walsh missed the point after attempt.
"We got sealed up in through the middle and he got outside," Rivera said. "Once a guy gets into your second wave of guys, you are in trouble."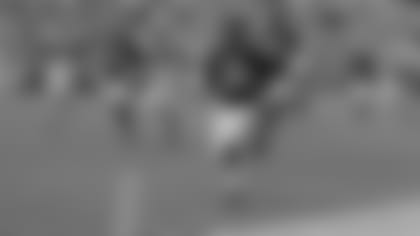 The Panthers' attempt at extending their lead in the closing moments of the half was turned away when Newton was sacked on second down and picked off on third-and-15.
At halftime, Carolina compiled 205 total yards compared to Minnesota's 34. And they only led 10-8.
"We were dominating the game in every single statistic except for the score," tight end Greg Olsen said. "To look up at the scoreboard and see 200-and-something yards and 10 points, it's tough.
"To seem them only having 30 yards and eight points, it was the story of our day."
The Vikings took the lead for the first time on the opening possession of the second half. Quarterback Sam Bradford lofted a 15-yard touchdown pass to tight end Kyle Rudolph in the corner of the end zone and running back Jerick McKinnon converted the two-point attempt to make it 16-10.
Minnesota cornerback Terrance Newman intercepted Newton's pass for wide receiver Ted Ginn, Jr. late in the third quarter, setting up the Vikings at Carolina's 43-yard line. That led to a 28-yard field goal from Blair Walsh, extending the deficit to nine early in the fourth quarter.
Walsh added a 31-yard field goal with 5:07 remaining, leaving Carolina little time to erase the two-score deficit.
In the closing minutes, Newton was swarmed under the Minnesota pressure and tossed a pass in desperation that was picked off by defensive tackle Tom Johnson.
"You give this team a lot of credit. They're really good on defense," tight end Ed Dickson said. "We're going to definitely look at this, be harder on ourselves and be ready to go."
View game action photos from Carolina's 22-10 loss to Minnesota.