ATLANTA – "Kings of the South! Kings of the South!"
As linebacker Thomas Davis bounced into the locker room following Sunday's 21-20 triumph, he repeatedly yelled the mantra, one he had mentioned multiple times in the weeks leading up to the Panthers' opportunity to claim the NFC South for their own.
He continued the cry in the locker room, sometimes for all to hear, sometimes drowned out by the cacophony of joyous noise coming from all corners of the cramped locker room.
"This is definitely sweet, not only to be able to do it for myself but for the men in this room and for the organization and our fans," said Davis, who had as much as anyone to do with Carolina going from 1-3 to 12-4 and division champions. "A lot of people wrote us off, didn't give us a chance to be where we are. They were talking about getting rid of our coach, the whole nine yards.
"But we never lost focus as a team. We continued to believe in each other."
As Davis spoke, he raised his voice to be heard above the din of "Kings of Da South" by T.I., blaring from speakers at his feet. The musical selection made so much sense, but another tune could have worked as well.
The Duran Duran classic "Hungry Like the Wolf."
Immediately following the game, head coach Ron Rivera was quick to remind his players that "the task is not complete." It was the kind of message a head coach has to deliver, but one this Panthers team already understands.
You see, they've been feeding the wolf ever since that 1-3 start.
"1-3 is panic time. You can't panic, but if it doesn't turn around rapidly, the whole season is over before it begins," left tackle Jordan Gross said.
With that in mind, in the locker room before the Panthers' fifth game of the season at Minnesota, Gross asked Rivera if he could address the team before they trotted out to face the Vikings.
"I gave a little analogy – it's actually from Highlander – about a dad who tells a kid about how you become a man," Gross said. "He said, 'You have a wolf on each shoulder. One is good, tells you to work hard and believe, trust, commit. The other one is bad, tells you to doubt, cheat, be lazy.'
"The kid asks, 'Which one wins?' And the dad said, 'Whichever one you feed.' That became a part of our battle cry this season, that we're a wolf pack, feeding the wolf."
Ever since the Panthers' 35-10 vanquishing of the Vikings, T-shirts adorned with wolves have been a common sight around the locker room. The speech is still brought up to this day.
"There are a lot of things said throughout the year. Sometimes the right mood strikes you, and you say something that's believable and authentic," Gross said. "But that wasn't what turned the season around. What turned the season around was guys believing.
"We were better than 1-3, and everyone knew it."
Several times during their 11-1 finish to the season, the Panthers were barely better than their opponent but were almost always good enough. Sunday was the latest example, when the Panthers used every resource at their disposal to eke out a victory.
Wide receiver Steve Smith officially couldn't help an offense that was struggling Sunday. But even though he was out with a knee injury, he didn't check out.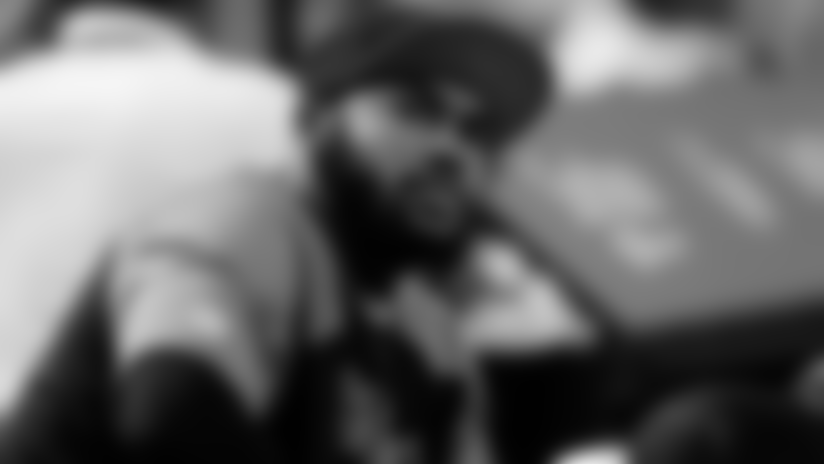 When Cam Newton threw an interception in the second quarter, Smith was there to support him. When Newton jogged off the field with the first division title of his three-year NFL career in hand, Smith along with fellow injured players Jonathan Stewart and Colin Cole were there to celebrate with him.
"I could have chosen to be home, but that's not where I needed to be. I needed to be here," said Smith, whose family was in Florida for a youth soccer tournament. "Sitting at home in an empty house with no one around, you talk about lonely and discouraged. That's where you can go really quickly.
"So I told one of my buddies, 'I'm going to be the ugliest cheerleader out there.' I was out there to encourage those guys and just be around them."
The support spilled into the stands, with Panthers fans showing up in droves and turning the Georgia Dome into a home away from home. In their own individual ways, Smith, Davis and Gross – the three longest-tenured Panthers - took it all in.
"This is outstanding," Gross said. "We've ended on the road a lot, and we've had some rough games in the past at the end of the year. This is just awesome. We kept believing, kept fighting."