CHARLOTTE – Offensive tackle Michael Oher arrived in Charlotte while the Panthers took the field for the first day of mandatory minicamp, but head coach Ron Rivera didn't have much to add regarding his situation following Tuesday's practice.
"He's in town," Rivera said. "Again, it's something that we're taking care of."
As for quarterback Cam Newton, he continued with his usual routine off to the side during practice and has not yet begun the throwing portion of the rehab.
"He's going to do exactly what the trainers have him do," Rivera said. "It's fun to watch him stay engaged and be a part of what we're doing."
LATEST ON MCCAFFREY, SAMUEL: Everyone is eager for a chance to see first-round running back Christian McCaffrey take the field with his new teammates, and Thursday (the final day of minicamp) will be the one and only chance before the start of training camp late in July.
"It's very tough. We believe he can become an integral part of what we want to do on the offensive side. When he arrives we'll see exactly where he fits for us," Rivera said. "We're very excited about the communications he's had with Coach (Jim) Skipper. They can continue to install. Coach Skipper says he's been great – very attentive. We're looking forward to seeing him on Thursday. We're going to find out right off the bat where he fits."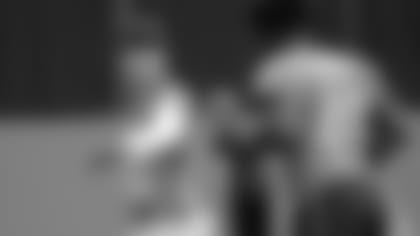 Said tight end Greg Olsen: "I don't think the work and all the learning is going to be too challenging for (Christian). To get acclimated to how we do things and just be a part of the team -- I think as a young player, that's the part you're most anxious about. Getting with the guys and feeling like you're a part of the team. With all the physical stuff he'll be fine -- his talent and work ethic will take care of all that. But I can understand why he's anxious to join us."
Meanwhile, the Panthers are being careful with second-rounder Curtis Samuel, who has been limited with an undisclosed injury.
"We're just bringing him along. We don't want to put him out there in a situation where something could happen. As far as we're concerned, he's doing the things that he needs to," Rivera said.
SHEP SHINES: Wide receiver Russell Shepard has been a spring standout after signing as a free agent, and that's been no surprise to Rivera and members of the Panthers front office, who felt he was ready to take big step forward after four years with the Buccaneers.
"As far as Russell is concerned, he's a veteran guy that we felt was on the cusp," Rivera said. "Those are the kind of guys you look for in free agency: They have three or four years in the league and are right on the cusp of taking the next step. We feel he's one of those kind of guys."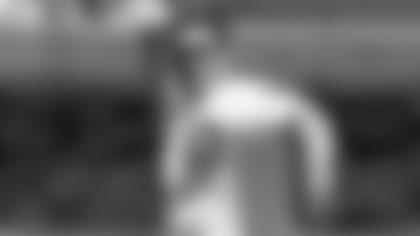 RIVERA ON THE RUBBER:While in Chicago for his godson's graduation this past weekend, Rivera stopped by the friendly confines of Wrigley Field to throw out the first pitch for the Cubs.
"Oh, I still get star struck," Rivera said. "There's something special about being at a place like Wrigley. It's really a neat thing."
Rivera, who years ago had the honor of singing "Take Me Out to the Ballgame" for the Wrigley crowd, said he wasn't nervous at all to throw the pitch, which he considered a strike. Cornerback Captain Munnerlyn saw it differently.
"Captain told me he thought it was a ball. I told him I thought it was a strike. I also challenged Captain that I'd strike him out," Rivera joked.
ROSTER MOVE: The Panthers signed wide receiver Cameron Posey, who was a tryout at rookie minicamp, after waiving safety Brian Blechen.