SPARTANBURG, S.C. – After Wednesday's practice, head coach Ron Rivera offered some insight on plans for the running back position entering the 2016 season.
Jonathan Stewart, the veteran workhorse coming off his first Pro Bowl season, is the obvious lead back.
And Rivera will be very careful with his workload during the rest of training camp and into the preseason.
"I'm going to see exactly what we did with him (last year) and try to stay along those lines," Rivera said. "There's no reason to expose him.
"We know how important it is to have a guy like him carrying the ball."
Including the postseason, Stewart carried the ball 292 times last season – far and away his career high. Along the way, he suffered a foot injury that forced him out of the last three regular season games, and he injured his foot again early in Super Bowl 50.
That said, he knows how important it is for him to rest his body prior to the start of another demanding campaign.
"This year it's learning how to balance and find moderation," Stewart said.
Still, Stewart insists he's feeling good.
"This is my ninth year, and I feel like it's my fifth year," he said.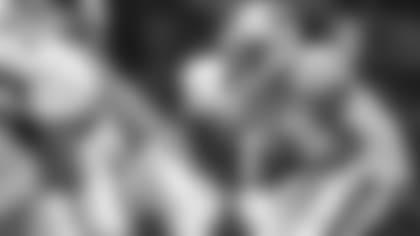 To keep Stewart fresh, Rivera is a hopeful that a young running back will prove worthy of steady carries in the No. 2 role.
So far, Rivera has seen encouraging signs from second-year backs Cameron Artis-Payne and Brandon Wegher.
"With what's looking like the emergence of Cameron Artis-Payne and Brandon Wegher, I think we're going to have a young guy that's going to be able to go out and carry the ball maybe five or six times and take some of that pressure off (Stewart)," Rivera said.
Added Stewart: "If that happens, I'll definitely have a little more rest, that's obvious. Whatever the game plans are, I'm sure it will be effective."
Artis-Payne has reeled off several nice runs in training camp, and both Rivera and Stewart were complementary of his improved pass protection.
The standout plays are important, but so too is the reduction of mental errors.
"They've limited their mistakes, they really have," Rivera said. "That's a big part of it. You can't be hesitant, you've got to play fast, and that's the nice thing about what we're seeing right now from Cameron and Brandon."
View photos from Carolina's sixth training camp practice.