PHOENIX – Quarterback Cam Newton will undergo surgery on his throwing shoulder Thursday, then he'll put in the work throughout the offseason necessary to put a product on the field that will make the Panthers successful in 2017.
The offense around Newton is also undergoing a similar procedure according to head coach Ron Rivera, working to build strength back after a tough season to put a winning product on the field again – one that will still feature Newton but that will better support him as well.
"For the last six seasons, Cam has shouldered so much of that responsibility," Rivera said at the NFL Annual Meeting that concluded Wednesday with the NFC Head Coaches Breakfast. "We're in a position now where he's more of a veteran quarterback, has matured more. We have to be cognizant of that when it comes to what we're going to do on the offensive side of the ball.
"What we want to do offensively is put the onus on the positions as opposed to just the quarterback."
Newton is having a partially torn rotator cuff arthroscopically repaired, and Rivera said he feels good about the procedure and Newton's ability to be "actively involved" throughout the offseason aside from him not being able to throw until around training camp.
The Panthers led the NFL in scoring with a franchise-record 500 points in 2015, when Newton was the league's Most Valuable Player and led Carolina to Super Bowl 50. For an encore, the Panthers dropped to the middle of the pack with 369 points and failed to reach the playoffs for the first time in four years.
"As much as it was one of his worst years, there were other circumstances that we have to correct as well – not completely revolving around the quarterback but revolving around different aspects of what we do on the offensive side," Rivera said. "Everything from what we do schematically to specific positions and injuries in those positions and development of specific players. We're going to work those elements of our football team, particularly on the offensive side, to get those things corrected."
Rivera was outspoken even before the disappointing 2016 season ended about how things needed to change on offense, and so far in the offseason the Panthers made moves to that end. Rivera said Wednesday that injuries along the offensive line last season were "probably the biggest thing," and so far the Panthers have worked to address that concern by signing former first-round left tackle Matt Kalil.
His brother, five-time Pro Bowl selection Ryan Kalil, missed the second half of last season with a shoulder injury of his own but is working his way back. The injury that was the impetus for issues up front was the one suffered by left tackle Michael Oher, who went in the concussion protocol after Week 3 and technically still remains there.
"Michael Oher is somebody," Ryan Kalil said, "if we can get him back healthy, he and my brother would be pretty nice bookends."
In terms of how the Panthers plan on helping Newton next season, Rivera is encouraged by where things stand with both Oher and Matt Kalil, who like his brother is coming off surgery. He missed the final 14 games with the Vikings last season after addressing a worsening hip injury that he believes limited his level of play the last couple of years in Minnesota.
"Last year we had to move our right tackle to left and play our third tackle as a starter,"  Rivera said. "It really impacts a lot of things that happened. We've got to refortify that position. That was one of the driving forces in us going out and bringing in (Matt) Kalil.
"We looked at it and said, 'Here's a guy trying to play through an injury.' When you look at the things he did early in his career when he didn't have the injury, we looked at that. He's had the surgery, so how much better is he now? And we have a lot of confidence in our position coaches, and that's a big part of it. They've done a great job with guys we've brought in. Michael Oher is a great example."
Oher was coming off an injury when he arrived in Carolina prior to the 2015 season, and he thrived both from being healthier and from reuniting with his first offensive line coach in John Matsko. Rivera is hopeful that Oher and Matsko will get the chance to pick up where they left off next season.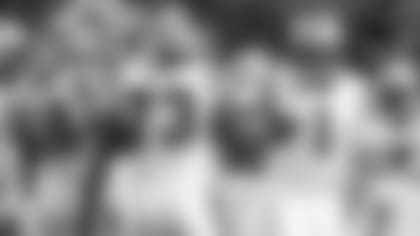 "Talking to Michael, listening to Michael, I believe he's going to play. I do," Rivera said. "Honestly, I don't have concern. We'll just continue with where we are with him. He's been around, has been doing the things he's been asked to do. He looks good, he really does. It's just one of those things that when it's time to start doing everything, we'll see how he is."
Fortifying the line in front of Newton isn't the only thing Rivera and the Panthers are doing. Rivera has talked openly about getting back to a power running game that features the running back, and Rivera is excited about the team having recently signed workhorse Jonathan Stewart to a contract extension. Rivera also plans to attend pro day for LSU running back Leonard Fournette, a power back often linked to the Panthers with the No. 8 overall pick in next month's NFL Draft.
"There are a few I wanted to go to specifically. That is one of them," said Rivera, who already attended Stanford's pro day featuring versatile running back Christian McCaffrey. "He's a young man we most certainly want to get to know as best as possible, and there are a few others we want to do the same with."
Rivera and Co. are being aggressive in their search for answers on offense, an effort aimed at empowering Newton to be the best quarterback he can be. When he's not, 2016 showed how this team can struggle. When he is, 2015 showed how it can succeed.
"For him, more so about anything else it's about the guys that are out there on the field with him," Rivera said. "He's going to have to rebuild his confidence. He was shook. The young man went through a tough time, and we went through a tough time.
"I've made mistakes. We've made mistakes. We didn't play to our abilities. If you constantly try to sell, 'We're going to be OK,' and hide or mask the situation, we're not going to confront it. So I'm really trying to put it out there so that we all know what we've got to get better at. That's part of my attitude. We put it out there. We know what needs to be fixed. Let's go out there and fix it."