INDIANAPOLIS – Between today and the beginning of the 2017 NFL Draft in eight weeks, the Panthers will evaluate draft-eligible players and free agents that can help the team improve next season.
But while "change" and "competition" are buzz words heading into next season, so is another C word: "continuity."
From working to bring back their own key potential free agents to keeping the coaching staff as intact as possible, head coach Ron Rivera believes that with the appropriate additions and tweaks, the Panthers have what it takes to get back to their winning ways.
"I did do a lot to make sure we didn't have the hangover, but unfortunately we weren't successful with that," Rivera said. "There are reasons for it, and there are things we have to do better and I most certainly can do better.
"I would say it's not about players in the draft or players in free agency. I would say it's about the players we have on our team right now."
Much the same sentiment applies to the coaching staff after the Panthers followed a 15-1 record and Super Bowl appearance in 2015 with a 6-10 record this past season. Rivera pointed out how the Panthers stayed the course after a 2014 season in which Carolina went 7-8-1 and ranked 19th in the NFL in scoring offense and 21st in scoring defense. They followed that up by scoring 10 points more per game in 2015 to pace the entire league while moving up to sixth in scoring defense.
"If we had decided to shake that staff up in 2014, who knows what would have happened in 2015?" Rivera said. "Continuity is something we talk about. As a staff, we have to look at what we've done in the past and had success with and what we've done in the past that we've had failures with, and we'll get those things corrected and do the other things better."
In other words, things will change, but Rivera and Co. don't think they have to reinvent the wheel.
To those ends, the Panthers were busy leading up to the NFL Scouting Combine locking up some key pieces along the defensive front for next season and, in Rivera's words, "sending a message to your team that, hey we want to bring our guys back and take care of our guys." With potential free agent defensive ends Mario Addison and Wes Horton re-signed and defensive tackle Kawann Short franchised, Rivera echoed general manager Dave Gettleman by saying the team also wants to bring back defensive end Charles Johnson and wide receiver Ted Ginn, Jr. if possible. Rivera also referenced potential free agent running back Fozzy Whittaker as fitting what the Panthers want to do.
At the same time, Rivera recognizes – more than ever after last season's showing – that simply maintaining status quo across the board isn't going to get it done. Rivera has spoken throughout the offseason and did again Thursday about adjusting the offensive approach after the unit slipped to the middle of the pack in 2016, but he also talked about doing it with the same core. Quarterback Cam Newton won't run as much next season, but he'll still run the show.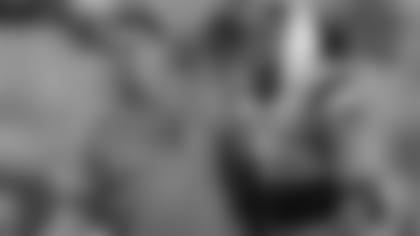 "Look at the quarterback we have. Look at the running back we have, the tight end we have, the receivers we have coming back," Rivera said. "It goes back to what we do and how we're going to do it. Those are things we're looking at and studying and making sure we put into play going forward."
On defense, Rivera talked about improving the unit through the continued development of the team's young cornerbacks and the continuing pursuit of consistency in the pass rush. He didn't mention the linebackers because he didn't need to: Luke Kuechly and Thomas Davis will still set the pace.
Continuity matters when it comes to the small collection of core players, but continuous improvement will matter just as much once the Panthers wade their way through free agency and the draft to set a 90-man roster that will be whittled to 53 for the season opener.
"There obviously are a few guys that it's a little different for, but for the most part you want to make sure they understand that we're competing. That's just how it's going to be," Rivera said. "It's about competition, and we're going to keep the best guys at every position."