SPARTANBURG, S.C. – There's a fine line at training camp between going hard and going too hard, between showing toughness and showing up a teammate.
But the line regarding effort in practice is better defined, and the Panthers stepped on the wrong side of it Monday following a strong start.
"I thought it was pretty good at the beginning of practice, some good things," head coach Ron Rivera said. "But then as practice wore on, you could see they were getting worn down a bit.
"I told them, 'Hey guys, we've got to be able to sustain it for a couple of hours. If we start fast, we've got to finish fast.' "
For Rivera, his complaint isn't about just wielding a whistle. On a mild but muggy morning near the end of training camp, the tenor of practice concerned him in light of the likely hot and muggy conditions Carolina will face in its regular season opener.
"It was tough. You could feel the humidity, but we've got to fight it because that's probably what we're probably going to face when we go to Tampa Bay," Rivera said. "This is all part of training camp and part of why you'd love to have hot, muggy days. You build up that feel where you can handle it."
The line between going hard and going too hard was almost crossed when quarterback Cam Newton came up hobbling on his surgically repaired left ankle when a couple of players got too close. Newton quickly recovered, but the moment served as a reminder.
"We've got to be smart," Rivera said. "I talked to them and tried to get everybody to understand that we have to be stout upfront, but as we pass rush we've got to realize where the quarterback is and pull off.
"The worst thing you can do is stop right in front of the quarterback because then he can't step into his throws, or if he does step into his throw then he's going to step into you. That kind of tweaks me. It's a common sense thing."
Tempers flared a couple of times Monday, but a full-fledged skirmish has yet to occur at camp. While training camp fights are a time-honored tradition, that's a line Rivera isn't interested his team crossing.
"Do you need to have a fight to have a great day? No," Rivera said. "Go back to what happened last Saturday and point to the intensity we had on the practice field, finished off with Luke (Kuechly) on that fourth-down play. That's what I'd rather see more than anything else."
Some players watched Monday's up-and-down practice from the sidelines with injuries sustained in last Friday's preseason opener. Tight end Mike McNeill suffered a knee sprain that will sideline him for an undetermined amount of time, while rookie running back Darrin Reaves tried to practice Monday couldn't finish because of a leg injury.
In addition, defensive end Mario Addison and guard Derek Dennis missed practice with flu-like symptoms.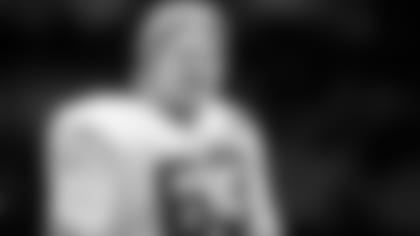 Monday's practice began with Canadian offensive tackle David Foucault breaking down the team huddle – in French.
"I couldn't quite understand it," Rivera said. "It was probably, 'Let's get going' or something nice like that."
Foucault actually said, "One, two, three, Panthers!" – simple words that fired up the team for a time but not for long enough.
"I'd like to see us sustain it for two hours," Rivera said. "That's going to be the key as far as tomorrow's practice is concerned."